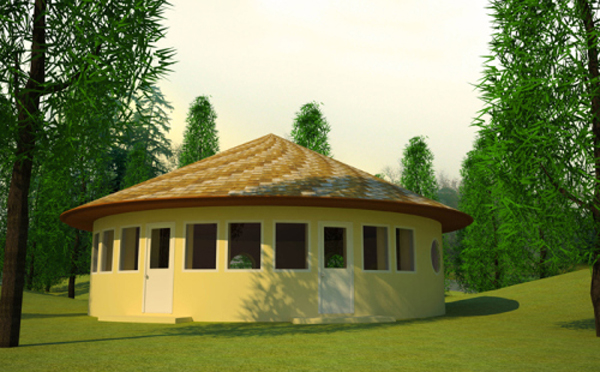 Question from one of our readers: Can I build a 30' diameter earthbag roundhouse for $2,000 in a remote area of Colorado or New Mexico?
Owen: $2,000 is not realistic for a house that size. You're probably only thinking of the primary costs for the shell. Our 18′ earthbag roundhouse cost $2,100 several years ago. It used local wood poles and roof thatch to cut costs. We could have reduced the cost some, but we wanted modern plumbing and electric, and some nice features.
While anything is possible for your 30′ roundhouse, a more realistic cost would be closer to $6,000 – $10,000, and that's with lots of recycled materials and local materials, and few or no codes. Of course the cost could be much higher if you start buying lots of stuff. Remember, even local materials have hidden costs like gas and truck maintenance to gather them. Also, your time is worth something. Most people don't want to spend weeks doing something when they can buy something comparable for a few hundred dollars. (The $100 house that I posted about recently probably took "forever" since they did everything themselves by hand.)
Please keep me posted on your project. I love hearing about ultra low cost housing projects.