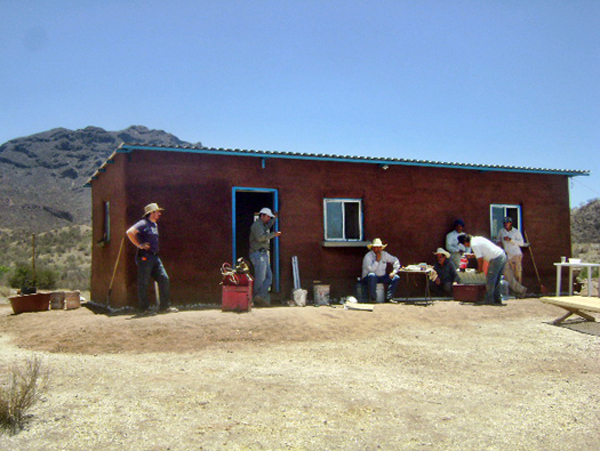 "The state of Sonora recognized that to their south, in the Valle del Yaqui, the area around Ciudad Obregon, they had vast reservoirs of wheat straw that could be utilized for building. With a new governor in place, there was motivation to begin experimenting once again with straw bale buildings and take advantage of what was learned from our Obregon experience. Once we got the project underway, we secured the help of our friend Emiliano Lopez, who was in charge of the Save the Children building as well as the Cuenca Los Ojos ranch building to oversee the construction of this house.

The location presented several design considerations. The area is subject to periodic hurricanes; two of the most severe were recent, 2007 and 2009. Oxidation and rusting of metal was another due to the proximity to the ocean. And as is always the case in Sonoran Desert, termites are a major concern. After considering a variety of structural approaches, it was finally decided to utilize a very lightweight steel structure, coated to protect against corrosion, in a manner similar to that which we have evolved for our hybrid straw bale buildings that utilize wood. Metal roof was chosen for ease along with clay plasters and a floor, the exterior plaster protected with a coat of linseed oil.
Read more at the source: The Canelo Project
Note: To see the image galleries of each project, click on the word 'photo' at the above websites.