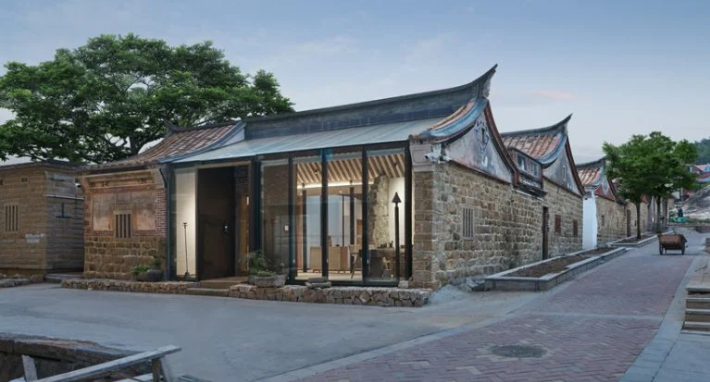 The 'Xiangyuxiangyuan Home Stay' in China combines old and new construction into a hospitality complex reflecting local culture and beliefs. The project comprises the restoration of three ancestral houses built in different times with the addition of two new buildings. Instead of repairing the old buildings the architects have inserted contemporary spatial elements where repair was needed.
The main concept of the project focuses on the reproduction of childhood memories, recalling elements such as, 'grandma's expectation under the eaves, thunderstorm in spring, fireflies in summer, sunset in autumn, withering scenes in winter, loach catching in water pond, four fruit soup, zongzi wrapping, a stool waiting for a gaojia drama or open-air movie during festivals, enjoying the cool in the starry night after supper, and listening to the old stories told by the elders.'
Like most ancient construction in China, the three ancestral houses were built with stones, rammed earth and wood. The collapsed portions of two of the three buildings, left the architects plenty of room for their imagination. The lead designer decided to rebuild the collapsed parts with contemporary additions that softly contrast the old remaining parts.
The collapsed part of one building features the first entrance hall and the wing room on the west side of the atrium. A white wall on the west side of the external wall occupies the collapsed part, visually contrasting with the original building, which is restored using a steel structure. There, a staircase leads to a roof balcony that allows guests to look up at the stars at night.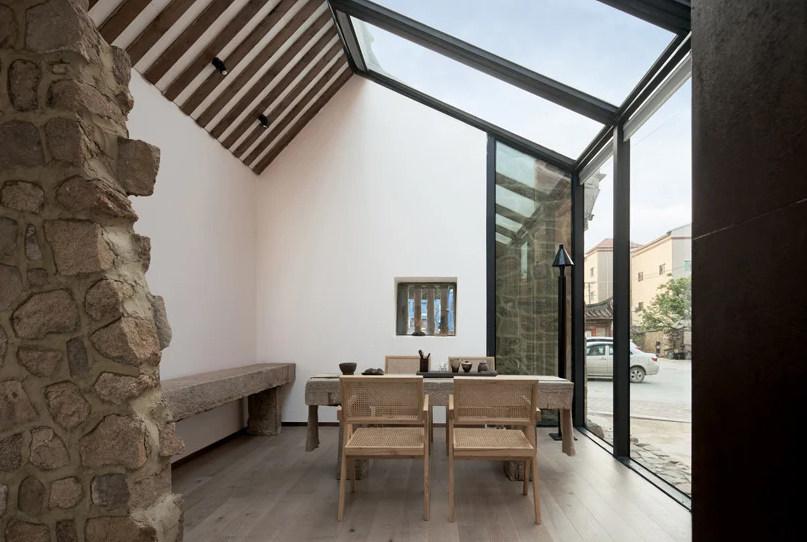 In the second damaged building, they inserted a large steel frame complete with glass that opens to the neighborhood.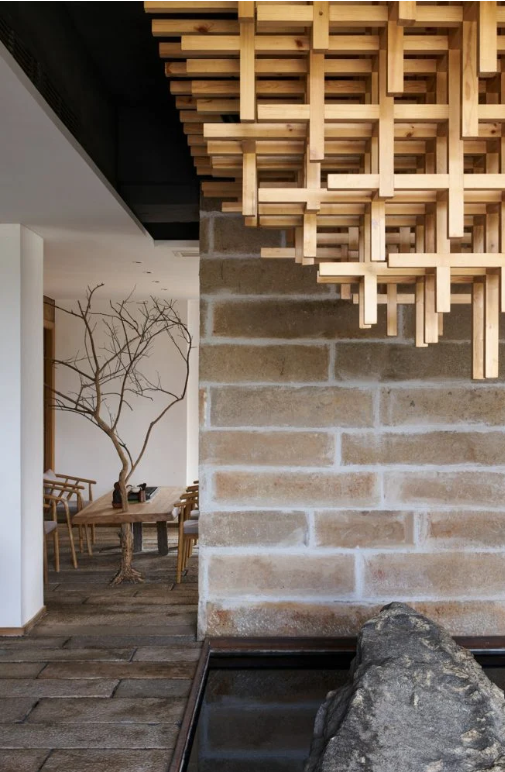 Built with strip stones and large slates, the third ancestral house adopts an internal steel structure that reinforces its stability while maintaining its original aesthetics. The interior design of the three ancient buildings takes the craft inherited in south Fujian area as the theme, while wood, stone and porcelain comprise the main materials of the project.
You can read the original article at www.designboom.com
Images by Aoguan Performance of Architecture; k·bphoto