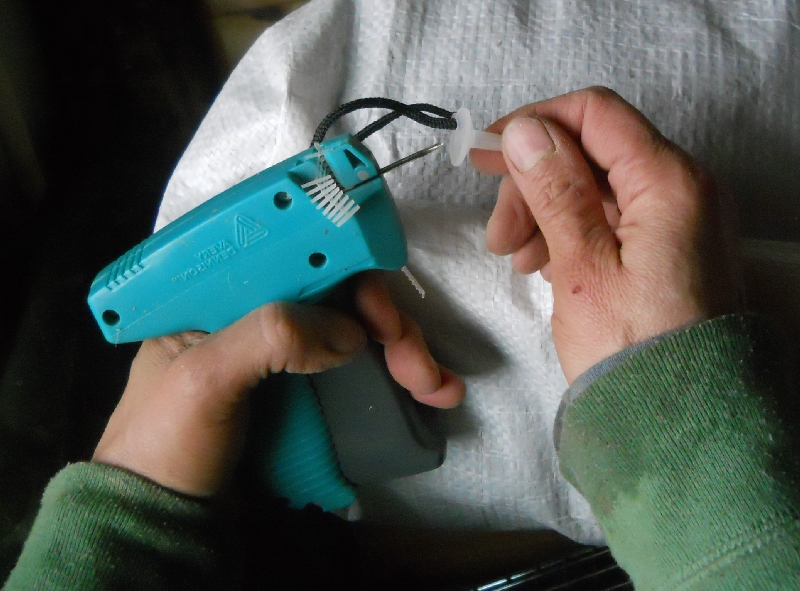 Patti Stouter has been experimenting with tag attachers to more rapidly close earthbags. She realizes this isn't for everyone, but may be helpful for those in certain countries. Patti sent the following text.
"I bought an Avery Dennison Mark 3 with 1/2 inch tags. This is a very lightweight inexpensive one, made for putting tags through finer fabrics. It's about 4.5 x 5 inches, so it fits easily in a pocket.
There's a sharp needle with a little cover. (You are warned to replace the needle when a different person uses it, to avoid transmitting diseases by accidentally poking yourself.) Just stick the needle through several layers of fabric, and squeeze the trigger. The tag is not strong enough to hold against tamping, but it keeps the bag neatly rolled up while placing and adjusting or moving.
I find I have to pull the trigger slowly and pull the gun back just as the tag emerges, or else it gets clipped off. A slightly sturdier version might work better. Perhaps there are stronger tags also."
Update: "I like my tag attacher more and more. I'm tagging the diddled bottoms, really helpful. But I'm already on my 3rd needle. I think a sturdier model might be better for this use. If it gets jammed at all it starts cutting the tags and one has to get a new needle."
Image credit: Patti Stouter