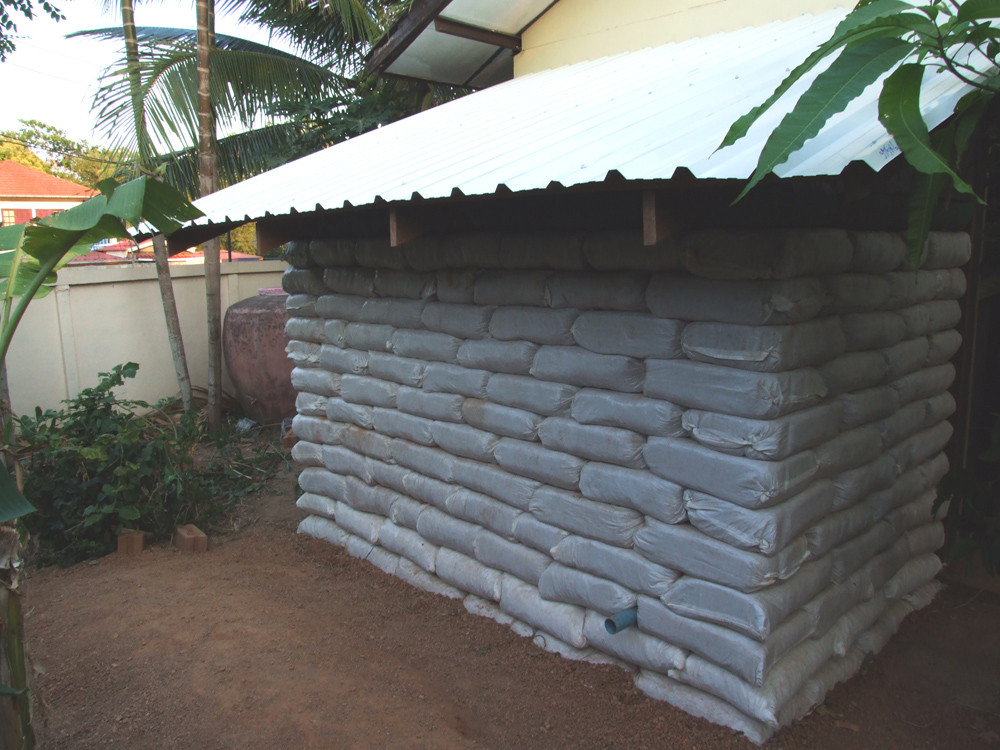 We're making good progress on our cool pantry – a shed roof addition behind our kitchen. A cool pantry keeps food cool without electricity (although we're going to use ours as a storage room). It was built during this year's workshop. The roof is on, and the end walls (triangular areas above earthbags) are framed in and covered with tar paper and mesh. Now we're ready for the exterior plaster and floor. It's the most perfect earthbag structure I've been a part of. Everything is very plumb, level, straight and square. We tested some earthen plaster on the wall yesterday and from the experiment it seems plaster materials and labor is halved due to good workmanship.
We're videoing every step of construction (mostly the earthbag work) and plan to create a full length earthbag video for sale. This project is very similar to building a small house and so the video should be helpful for many. It will likely take two months to complete the video, so be please patient if you'd like to get a copy. (No need to write and ask "when will the video be ready." It will be announced here on our Earthbag Building Blog when ready.)
[Update: I'm shocked! The video is almost finished. The editing is 99% finished. There are a few details to add and then I plan to add the best YouTube videos at the end. The total length will be close to 2 hours. Stay tuned…]
Learn more about cool pantries.