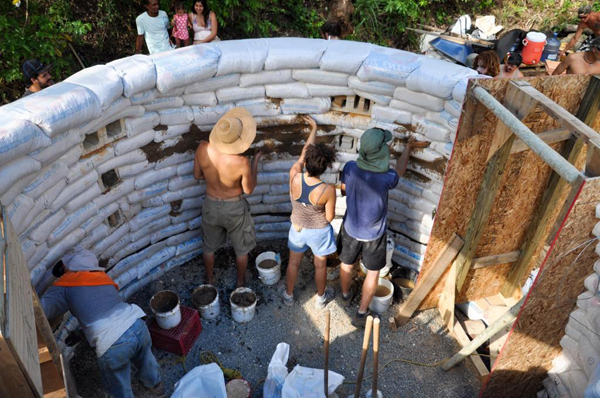 An 8-day hands-on and theoretical training
Facilitated by Fox McBride & Owen Ingley
Dates: December 16 – 23, 2012
Language: English
More information www.plenitudpr.org

Earthbag building is:
– Inexpensive, sustainable and easy to learn.
– Appropriate for both tropical and temperate climates.
– Highly resistant to natural disasters such as earthquakes, hurricanes, floods, and snowstorms.
In this training, participants will:
– Gain an awareness of diverse alternative and natural building methods and their appropriate applications for different climates, locations, scope, and budget
– Explore the principles of "bio-construction," including design for passive heating and cooling, alternative energy production, rain water collection, and integrated land-scape systems
– Learn to identify diverse soil types and characteristics and understand their behaviors in relationship with water, stabilizers (cement and lime), fluctuating temperatures, and under compression
– Utilize native sub-soils to prepare diverse mixes with and without stabilizers (concrete, lime) for earthbag and rammed earth wall systems and natural plasters
– Use the earthbag method to construct wall systems (rounded, rectangular, domed, and vaulted), arched window and door openings, retaining walls
– Practice using both computer-automated and manual methods for surveying and design (includes introduction to the design programs Google Sketchup and AutoCad)
– Prepare a rubble trench foundation and install affordable drainage systems to protect earthen walls and plasters
– Learn project management skills necessary to successfully complete projects
Cost of the Training: $850 per participant
Price includes:
– Breakfast, lunch and dinner during training days (local and fresh ingredients)
– A Reference Manual with over 50 pages of articles, references, and diagrams
– 8 days of intensive theoretical and hands-on training
– A book on Earthbag building
Inquire about opportunities to camp at the facilities during the training, work-trade discounts, and group discounts.
For more information and to reserve your space, please contact us:
www.plenitudpr.org / pplenitud@gmail.com / 787.806.7094