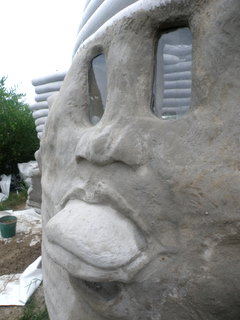 Daniel Jones has a special feeling for the Australian Aborigines and conceived of a project to help them protect their heritage. He built an earthbag dome close to the beach at a swampy inlet that is an Aboriginal heritage protection site where an ongoing blockade against unsustainable greedy mansion development continues.
The History Pod 'Murrong Gunya' sand house is a labor of love with a humorous flare of design. You can see this in the fanciful plastered image.
The opening of the History Pod at Sandon point is planned for the 17 th December 2010 celebrating the tenth anniversary of the Aboriginal tent embassy and the continued blockade of the developers.