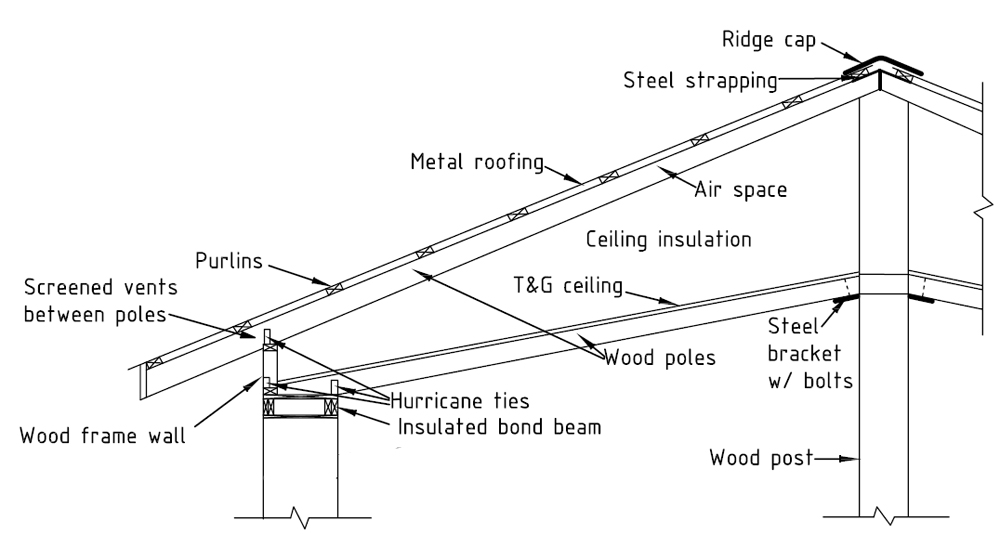 I'm always searching for new ways to utilize small diameter poles, which are abundant throughout western US forests and elsewhere. This double pole roof design is very simple. Roof poles are raised on a frame wall to create sufficient space for a superinsulated roof. From below, the sloped ceiling features exposed wood poles, and tongue and groove wood. The drawing is pretty much self explanatory, but a few points are worth noting.
A center pole design such as this is suitable for round, octagonal, hexagonal and similar shaped structures. Instead of a center pole, you could build a column using CEBs, adobes, stone or other suitable material. I have one house plan (see Native Spirit design) that uses a high mass column like this with a wood stove pipe going up the center. For rectilinear designs, a similar double pole roof could be built with a bearing wall or beam down the center.
If you decide to build this way, draw a roof plan. It will help you visualize details such as framing members between poles. Most likely some extra framing will be needed. More poles could be used for this or you may opt for dimension lumber to help create a flat surface. Either way, poles and dimension lumber can be coped on the ends to fit against the main roof poles.
You can read the full article for free at Mother Earth News Blog.