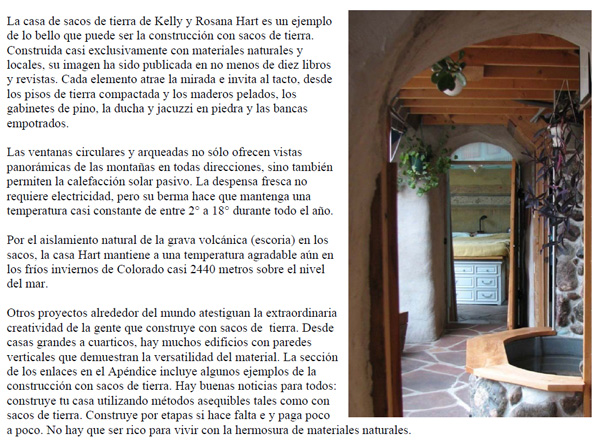 Good news. The Spanish version of my Earthbag Building Guide is 99% complete thanks to the tireless efforts of Zafra and Daniel. They carried the torch after a previous volunteer started the initial translation.
We're now looking for one or more volunteers who are skilled in proofreading/editing, PDFs and Spanish. The remaining tasks involve proofreading the Spanish, making the table of contents and creating the final PDF. Things are already at a high level of completion and so it shouldn't take much more to finish the ebook. Email me at my new address at naturalhouses [AT] g mail. com if you can help. Your name and company name will be added on the credits page.
Also, I'd appreciate your feedback on how much to charge for the ebook. Remember there are built in fees for everything — download fee, PayPal… I'd like to find a price point that's affordable and still makes a small profit to cover the time and effort. One possibility is for me to email the ebooks to save on download fees.
Zafra's blog Casa Abya Yala about their sustainable living project in Venezuela