This is how earthbag building started out decades ago — providing safe, bulletproof and bomb resistant shelters for the military that were fast and simple to construct. The same qualities that make earthbags useful for military and flood control purposes apply to building houses.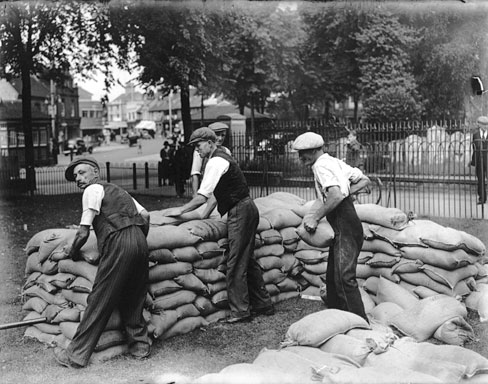 This WWII photo from the UK is part of the Bedfordshire and Luton Archives and Records, titled Sandbag Shelter, St. Peter's Green, 5 September 1939.
Almost seventy years later people all over the world are using the same basic process of filling and stacking bags to build their dream homes, home offices, shops and additions.
Tatu Penrith's hideaway
Baraka's house
Alison Kennedy's house
Rum Cay sand castle
Robin's house
Kelly and Rosana Hart's earthbag and papercrete house
Kelly and Rosana Hart's carriage house (office, shop and storage)
And as people discover the advantages of building with earthbags (sustainable, safe, quiet, durable, low-cost, nontoxic, fire and flood resistant, rodentproof, etc.) they are also building commercial buildings.
La Casa de Tierra vacation rental in Costa Rica
Sound Dome
Ranger station
Affordable earthbag schools and houses in the Philippines
In addition, builders, NGOs, research institutes, and governments are rediscovering the potential for using earthbags in affordable housing.
Earthbag domes of Ikio Inoue
Post-tsunami affordable housing project
Pakistan emergency shelter proposal
How to build a small earthbag dome
CalEarth sandbag emergency shelter instructions
New and interesting projects are being discovered all the time. If you have a project you would like added to EarthbagBuilding.com, please email us from our About Us web page.