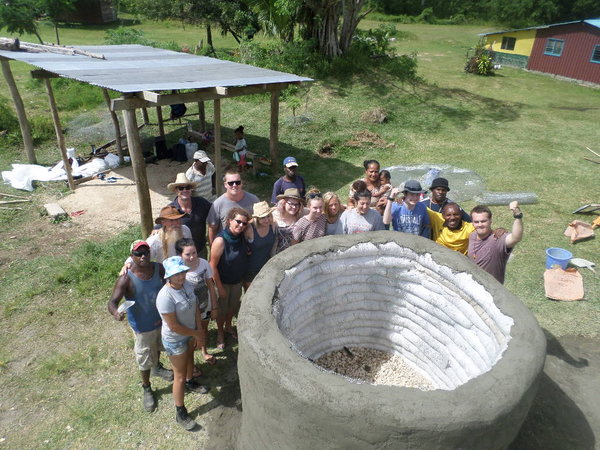 We've nearly finished an earthbag water tank with narrow tubes that cost $200 in materials. Plastic tanks this size retail for around $1,350 in Vanuatu, so this design costs far less than the main competing product. It won't blow away in a hurricane, break down from UV rays or taint the water with plastic chemicals. Our water tank includes a domed ferrocement top that's exceptionally strong. It can be built in 2-3 days by four workers with minimal skill, although plastering skill is very helpful. There's a huge water shortage on the islands here in Vanuatu, as well as many other places. Those who learn this method could make a lot of money selling water tanks since demand is high and cost of labor is cheap.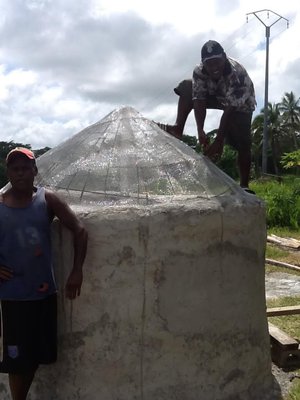 Our polypropylene tubing was purchased from Bundaberg Bag Company, Australia. Specs: 14-1/4" (36cm) wide when measured flat and empty, wall width before plaster 11-3/4" (30cm) x 4-5" (10-13cm) high. Flatten the wall surfaces somewhat to save on plaster and the wall width is then closer to 11". Standard 18" wide tubing is best for most houses and other large structures, but excessively wide for water tanks. Bags such as poly rice bags will work, however, you will get gaps between bags that take extra plaster. Plaster mesh is not needed if you apply the first coat in the recesses between courses. The second coat covers the entire tank. The plaster that falls down inside will naturally make the floor with minimal effort.
Desirable water tank features: dome top to shed water so plaster doesn't get covered with mold, 'first flush' pre-filter to flush the first water after a rain with dust and bird poop, removable strainer to screen out leaves and other debris, lid for strainer (covers strainer between rains), 2 lockable brass taps: one raised a ways from the bottom and one clean out drain on the bottom, overflow pipe, tie-downs to secure lid. Some people build a recessed area below the water tap for filling buckets.
Right now I'm loving the idea of water tanks. It fulfills my goals of spreading appropriate technology and helps meet an urgent need. You probably know that over 3 million people die every year from lack of clean water. Capturing roofwater is one of the lowest cost, easiest ways of obtaining safe drinking water and clean water for cooking, bathing, laundry, pets and chores around the house. For many, a clean water supply is the difference between life and death.
Photo credit: Alexander Lahner
Instructors: Stefan Jost, Josaphine Porteous, Jordan West
Lorien Novalis School, Dural, NSW Australia