Here's an overview of how we plastered the interior of our roundhouse with earthen plaster. After reviewing the various recipes and techniques, we decided to keep things as simple as possible. No doubt some of the extra plaster additives like manure and wheat paste can be helpful, but we wanted to see the results of using just clay and sand mixed together 2:1. We also were concerned about fibers such as straw molding in our humid climate, and we didn't want the added work of cooking wheat paste, gathering and chopping fibers, scooping manure and so on. Plastering is a lot of work, and we wanted to simply the process and reduce time and labor.
So far we are very happy with the results. I'm not saying our techniques will work for everyone. We have access to excellent clay and our humid weather slows the drying process, both of which reduce cracking. Your mileage may vary.
Clay: Our clay soil is almost totally free of stones and organic matter. All we did for the base coats was a quick visual check, tossing out a few small stones here and there, and breaking up some clumps. For the finish coat, we screened the clay soil through fine fishing net. Dry soil sifts much faster than damp soil.
Sand: Usually you can buy washed sand from a gravel yard. In our case, we had to sift and wash it by hand using fishing net in a 55 gallon drum of water. (We needed washed sand for the concrete work that was going on at the same time, otherwise washing sand isn't necessary.)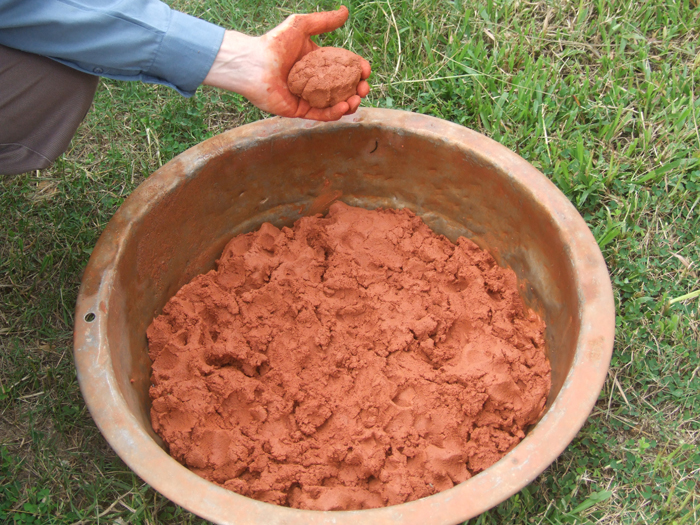 Mixing: We prefer making very small batches. This speeds the mixing process and makes it easy to move the plaster where it's needed. First, we add about one quart of water in a dishwashing tub. (Actually, you'll have to adjust the volume of water based on the moisture content of your clay and sand. Our sand was wet and so we needed very little extra water.) Then we added the clay and sand in layers to reduce mixing: one gallon of clay soil and then half a gallon of sand, then another gallon of clay soil and another half gallon of sand. Wait a few minutes for the clay to soak up the water, and then mix everything together. If you need more water, add just a little at a time. That's all there is to it: 2 parts clay to 1 part sand, plus enough water to get a nice mix that sticks to the walls, but not too wet that it tends to crack. Make a test patch on your wall and adjust as necessary. If it cracks, then add more sand and/or use less water. If it doesn't stick, add a little more clay and/or water.
Part 2 on Applying Earthen Plaster coming soon to your favorite earthbag blog.