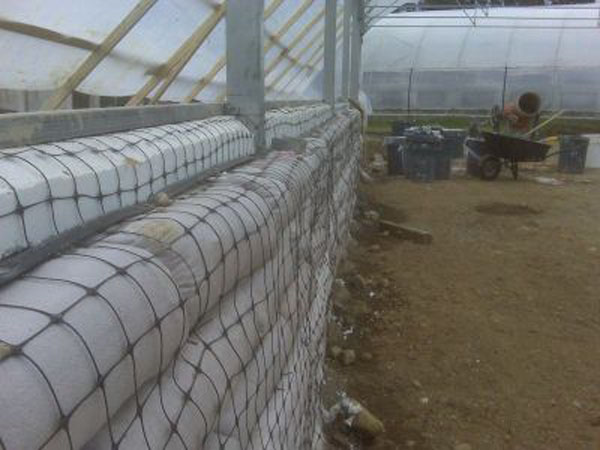 "In the spring of 2011, the construction of our new greenhouse began. This is not just a regular greenhouse. In an effort to maximise thermal mass, it is being built with environmental sustainability in mind by using earth.
Why use this method for a greenhouse wall? The main reason is to store heat and increase the growing season. The thickness of the rammed earth wall allows for solar energy to be absorbed and released slowly, which helps to increase the temperature at night as the heat is slowly released. During the spring and fall when the weather is cooler but the sun is still shining, it will raise the greenhouse temperature and help to increase the growing season.
There are many benefits to this method of building. Some of these include:
– reduced amount of CO2
– passive thermal mass
– lowered cost of heating
– cost comparable to conventional construction
The long south facing wall features a 4' high compacted earthbags and a tire base. The heated beds in this new greenhouse are also formed with compacted subsoil that was excavated from the site. These beds are 72' long 6' wide and 3' high – we're talking a lot of mass! As we've done in the past, we are using hydronic heat (hot water pipes) to supply the even temperature required for optimal growth. Greens and shoots are baby plants which like warm roots. Our new beds are built to store and release year round warmth. We're super stoked to be adding a garn wood gasifier and a bank of solar tubes to make the water hot while reducing carbon emissions.
This new greenhouse will allow us to increase our production overall, improve growing conditions and particularly help us with production through the winter months. We are very excited about this project as it aligns with our values which place importance on sustainability and creativity, for people and the planet. Stay tuned for more photos and information throughout the process!"
Source: Eatmore Sprouts.com
(Sprouts available from Canadian supermarkets.)
Technical note: Be sure to insulate the outside of buildings in cold climates. Otherwise all that great thermal mass will turn into a giant popsicle that sucks heat out of your building.