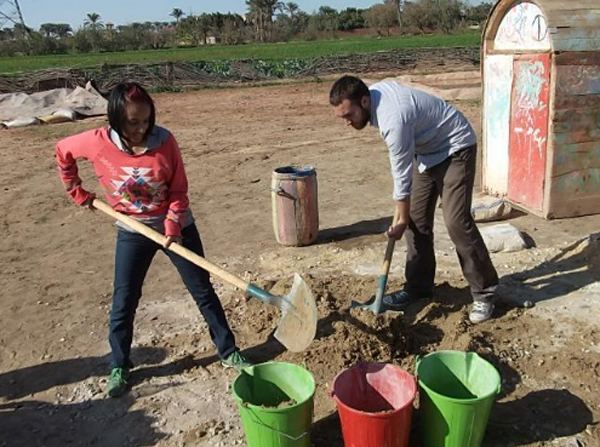 "Fagnoon Art School hosted a workshop for teaching the latest methods of earthbag building, an inexpensive construction method, hoping to bring the innovative technique to their farms and villages.
"The main goal of this workshop is to teach people how to build low-cost houses with their own hands," says Adam Molyneux-Berry, a co-founder of icecairo, one of several environmental organizations that supported the workshop.
"Earth or sandbag building techniques are particularly appropriate for Egypt, as 95 percent of Egyptian land is desert and sand is available in abundance," says Molyneux-Berry. "Building such houses is very economical, and can provide a large number of green jobs for the youth."
"In addition to being economical and green, one of the main advantages of using earthbag buildings is that they can be removed anytime without causing any damage to the agricultural lands, unlike what normally happens when you use the traditional construction materials," Khodary says.
"Instead of living in the overcrowded cities suffering from employment and poverty, youth must direct their attention to the wide desert," he says. "Using earthbag building techniques and sustainable permaculture methods will help establish integral communities that will push the Egyptian wheel of production and development forward."
Comments: It's great to see earthbag building in more and more newspaper articles. The following comments are added for clarity.
"One of the main problems is that plastic sacks start deteriorating after about two years."
Correction: Polypropylene bags can start deteriorating in two months, depending on the quality of the bags. Keep earthbag walls covered to maintain structural integrity. Protect the bags from UV damage with tarps or coating the bags with recycled paint, etc. Some use a thin layer of mud, but this would probably dry and flake off quickly.
"…use any materials available on-site, such as sand, oil or gravel."
Correction: Not sure how or why they are using oil. I would not want the earthbag walls in my house to be saturated with oil.
Suggestion for building in sandy deserts with no clay or other affordable stabilizers: See Earthbag Build.com They have developed and thoroughly tested special bags for loose sand.
Read the full article at the source: Egypt Independent