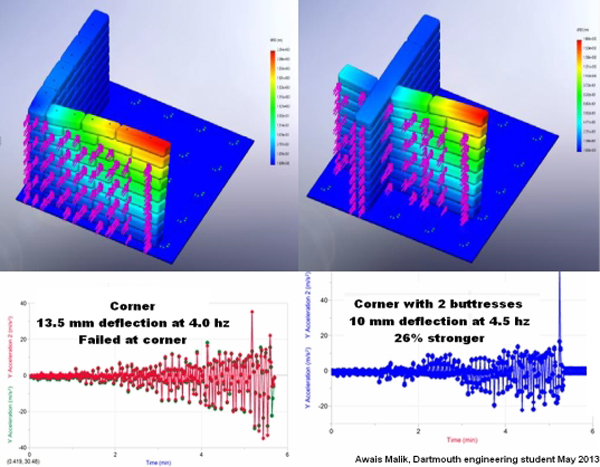 "How much reinforcement do straight wall earthbag buildings need for earthquakes?
Engineers can't tell without test results. Until this year no one has tested earthbag on a shake table, since full-size testing could cost between $10,000 and $15,000 USD.
Dartmouth Professor Vicki May encouraged her students to examine earthbag after meeting BSI's Patti Stouter at the $300 House Contest Workshop. Patti gave a skype lecture, returned to train students in earthbag technique, and acted as mentor for interested engineering students. Awais Malik dedicated 6 weeks to sew small bags, twist custom barbed wire, and plaster the corners of 1/6 scale models of 3 kinds of corners. Despite difficulties with outputs he was able to use the results of the shake test to create a computer simulation accurate to within 1.5%. Engineers use computer programs that simulate the violent stresses earthquakes cause to buildings, to learn without destruction.
Mr. Malik's testing showed that 2 narrow corner buttresses or one massive thickened corner pier reduce earthbag wall motion under vibration by 26% and 33% respectively. The massive pier allowed the model to withstand higher frequency shaking, even though it was not well interconnected by the barbed wire. Under testing the square corner material fell out but the wall itself was not damaged at the corner. More testing is needed!
Engineers may also be interested in Malik's finding of Young's modulus of elasticity as 2.0 x 107 Pa, or in his description of creating the Solidworks simulation. More information is online in his thesis, Structural Analysis of Earth-Bag Systems.
Build Simple Inc wishes Awais well in his continuing studies, and would love to help with other plans for engineering tests!
Patti Stouter, Build Simple Inc.
Earthbag foundations were tested on a shake table back in 2009 for PAKSBAB.