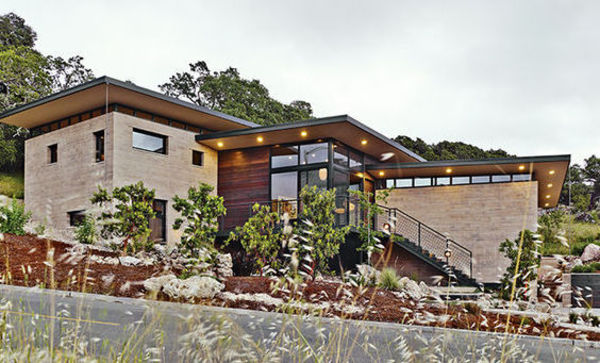 This may be the biggest story of the year. I just found out more information about the clay masonry blocks we reported on the other day. It turns out they were invented by rammed earth expert David Easton, and the blocks are already for sale in northern California in the San Francisco area. That means the development of Watershed Materials earth blocks are much farther along than I realized. This is VERY good news for natural builders and so I will do additional blog posts on this subject. Today's blog post is about David Easton's new home that's made with these clay blocks.
"David Easton, a pioneer in the field of rammed-earth construction, developed sturdy blocks made from recycled and waste material and then used them to build a house for himself and his wife, Cynthia Wright, in collaboration with designer Juliet Hsu.
David Easton, the founder of a Napa, California, company called Rammed Earth Works, has built more than 300 rammed-earth homes in 35 years. He completed another in 2013, this time with one crucial difference. This relatively modest 3,000-square-foot house was made—without building forms— of rammed-earth blocks.
"An inexpensive rammed-earth house had been my unrealized dream," Easton says, "until it dawned on me that a better concrete block—one of the most common building components in the world, but made of earth that you could pick up and lay together to form a wall—could be more effective for modern construction."
Easton promptly started Watershed Materials, a company that makes lithified building blocks, bringing the thermal, ecological, and aesthetic advantages of rammed-earth homes within reach of more people by bypassing the expensive molds generally used in this type of construction.
"Our Watershed blocks are made from local raw material to embody the character of the region," Easton explains. The blocks are eco-friendly and economical in other ways as well. Bonded together with a matching mortar, they require no surface finishes inside or out, and, because of their thick thermal mass, they need no artificial insulation [in their climate]."
More at the source: Dwell
From the Journal of the American Institute of Architects
"… a new masonry unit from Watershed Materials made of fused soil and rock fragments, including quartz, feldspar, clay, and other minerals. The hollow-celled blocks each weigh approximately 30 lbs.—up to 15% more than standard concrete blocks but with half the cement content. The variety of each one's contents results in color variation emulating natural rock forms. The blocks measure 16" long, 8" tall, and 4", 6", or 8" deep."