Keyhole vegetable gardens are:
– self-watering
– self-fertilising
– raised garden bed for the smaller types of vegetable plants.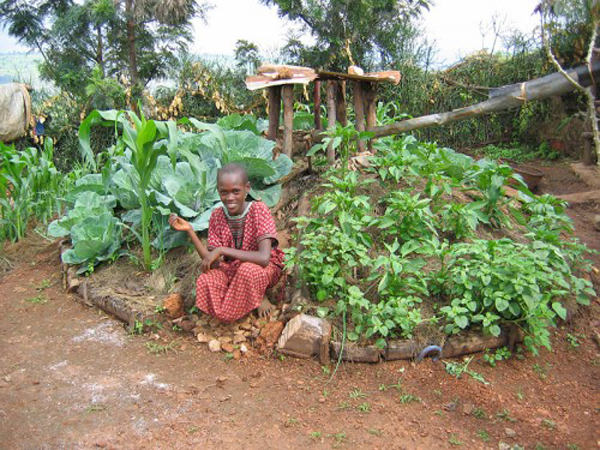 YouTube video (Africa – where it is hot and dry) http://www.youtube.com/watch?v=ykCXfjzfaco
Text from video: "Keyhole Gardens are a great garden to make – here is one being built in Uganda. This organic technique is part of Send a Cow's training in sustainable agriculture and is a great home garden idea too. Keyhole gardens survive floods and arid conditions well as the raised bed holds moisture and is 'fed' grey water and compost via a central basket. Help more African families learn how to make these gardens and buy the charity gift of a Keyhole Garden for a friend at Send a Cow Gifts.org." or http://www.sendacow.org.uk
The idea is that a good mix of compost (50% prunings, dry grassy stuff with 50% mushy food waste) will decay naturally and leach out the water and plant nutrition to the roots surrounding the basket. [Note from Liz: In Vanuatu don't add soil or a roof to the compost basket). No plastic is used!]
Text above from Maree McCarthy at Nature's Magic Garden Designs
Note: These keyhole gardens would work great in Haiti where the soil is thin and rocky and growing conditions extreme.
More details on keyhole gardens:
Dave's Garden
Texas Co-op Power: Keyhole Gardens
The Permaculture Research Institute: Building a Raised Bed Keyhole Garden