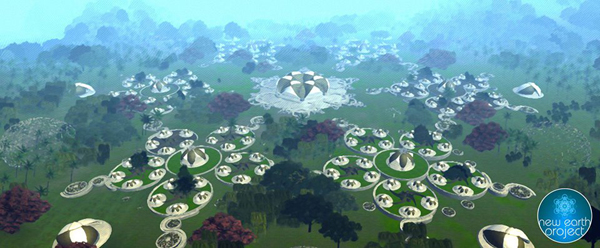 "Community Layout and Structures Designed Using Sacred Geometry
Using sacred geometry to layout the communities enhances the connection to Earth, Spirit, and creates a joyous uplifting environment. Physical structures are formed to reflect energetic structures. In the past we wanted to experience our individuality and so we built separate houses and lived separate lives. Now we want to come back together in community while at the same time maintaining the benefits of our individuality and so we need physical structures to reflect and accommodate that. By coming from a solid energetic structure of positive harmonious philosophies, we can build physical structures that are conducive to a harmonious experience that supports both the idea of individuality and community.
Structures Built As Green and Sustainable As Possible
Only the structures that are necessary will be constructed in as efficient, green, sustainable, harmonious with nature, and as low an impact on the Earth as possible. The structures will accommodate higher conscious philosophical lifestyles that are in harmony with low impact living. The habitat will be restored to its original state in as many ways as possible.
The design of each community will be in harmony with the natural environment of its particular location. This will make each community unique with its own flavor. They will be constructed with natural materials and nature will be used as a design element as much as possible. They will be "green" and environmentally friendly, create as small an environmental footprint as possible, utilize all the latest technologies for energy efficiency, and recycle everything possible, including waste and water."
"Earth is our only home. Its ability to sustain us depends on us living with it in a more harmonious way."
http://kirknielsen.com/project/community-plans/
http://kirknielsen.com/green-building/
Thanks to Luke for this tip. But how many of these communities did he design? Sorry, it's not clear to me.