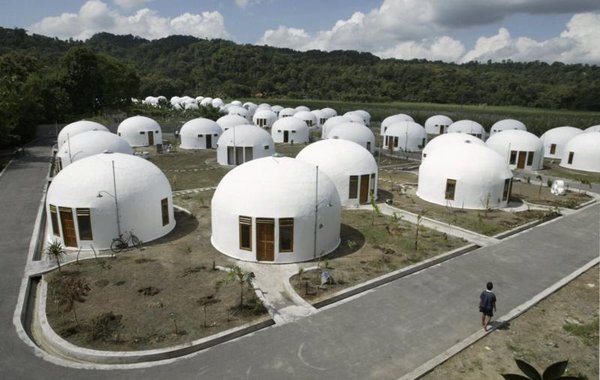 The devastating 2004 Asian tsunami was pivotal in my life. The tsunami occurred while I was working for Builders Without Borders. Intensive research into every conceivable house building method I could find all pointed to the conclusion that earthbag housing is the safest, strongest, lowest cost and most appropriate housing method for disaster prone regions such as Indonesia. Here I am 10 years later visiting the region as part of my tour to promote natural building.
Indonesia is one of the most disaster prone regions in the world. It is vulnerable to both large earthquakes and volcanic eruptions due to its location near where the Australian tectonic plate is subducting beneath Indonesia. Here's a sampling of news since the Asian 2004 tsunami. An earthquake hit Yogyakarta, Java in 2006 and damaged 200,000 houses. This resulted in $3 billion in damages. A 2006 earthquake and tsunami hit near the resort town of Pangandaran on western Java. A 2009 earthquake hit Padang, Sumatra. Indonesian citizens near Surabaya in February, 2014 had to flee their homes as Mount Kelud erupted, spewing ash and debris as far as 80 miles from the volcano. Mass evacuations began as the volcano in East Java began to erupt. Tens of thousands are displaced from their homes. Billions in foreign aid have poured into the country to aid reconstruction.
Dome homes in Yogyakarta: Images of these sterile, factory-made looking domes pop up repeatedly when researching the redevelopment of the region. In an area of such splendid local architecture, it really pains me to see these ghastly concrete domes. To say they are out of place is a huge understatement. One can go in any direction and see beautiful and more interesting and practical homes — homes built to fit the site and owner's needs, with individual style and character. For future reconstruction, I feel it's much better to build homes that people really want to live in.
This is the project our design team came up with shortly after the Asian tsunami: Post-Tsunami Affordable Housing Project