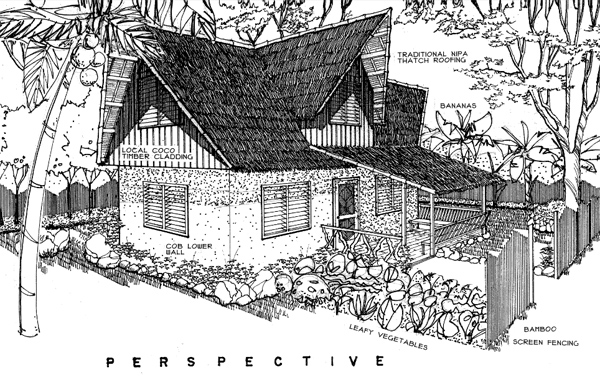 "This open source Information Package is in response to the great, unmet demand for safe and affordable housing in a region prone to earthquake, tsunami and typhoons. After the recent Typhoon Haiyan EBS has decided to upload this disaster resistant low cost housing solution for SE Asia as open source information.
The construction system is disaster resistant, suited to self-build programs underwent earthquake simulation testing at University of Technology Sydney, Australia. A proto-type was designed and built for a coastal tropical climate in Gingoog City, Mindanao, Philippines in 2006. Peter Hickson and other Australian Business Volunteers (ABV) trainers occupied the building for several months in both wet and dry season and attest to its comfort.
The building has survived two minor earthquakes, the worth flooding recorded in Gingoog's history. Fortunately Gingoog was far enough from the centre of Typhoon Haiyan to avoid the worst effects of the storm cell though the building survived the associated bad weather and many other monsoons. The bamboo -reinforced cob house is a solution for both rural and urbanising population rather than for inner city housing.
The solution is designed to be affordable, comfortable, safe, desirable and durable. It can be built in stages starting with basic shelter that can be lived in if required whilst completed. The home is a reasonably large home constructed mainly utilising sustainable local building materials such as clay, sand, rice straw, bamboo, palm thatch and coco lumber. "
More at the source: Earth Building Solutions.com