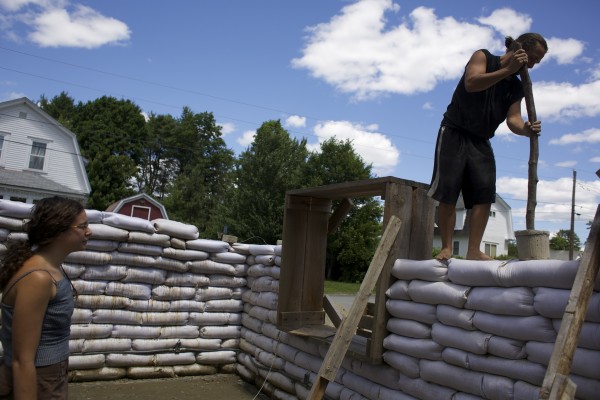 "MILO, Maine — An unusual home is being raised in a Milo neighborhood populated with average suburban homes. Teacher and mother of one Kara Taheny is using polypropylene earthbags to create a bio-benign, passive home that's made with bags filled with dirt from her land.
"I love the idea of finding systems that work for us and the environment, because we are the environment," the 23-year-old, who recently received her bachelor's degree in education from the University of Maine, said. "It's our food source, so what really can we do without it? If we continue to make homes that need inputs and need inputs and need inputs and our population continues to grow, it's unsustainable. If we can find systems that are sustainable and affordable, why wouldn't we [use them]?"
The walls of Taheny's house are made with 800 polypropylene bags filled with a sand-clay mixture from the ground on which the house sits. The bags historically have been used for flood control and building bomb shelters, but they also lend themselves to building because of the material's ability to withstand environmental conditions.
Taheny chose this design because she wanted to live in an environmentally friendly and affordable home. The design evolved from blueprints she has been working on since she was a child.
Taheny's estimated cost for the project is $10,000 (25-by-35-foot structure), which she hopes to pay off over the next year. Her calculations leave room for unexpected building costs and so far she's operating under budget."
Read more at Bangalore Daily News