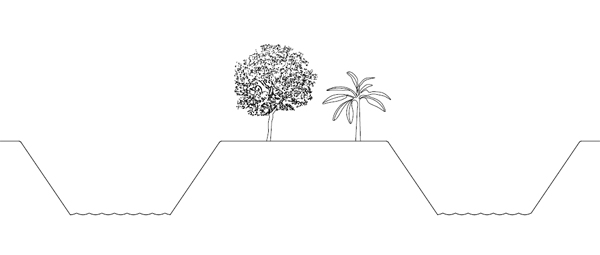 A basic tenet of permaculture is for everything to have more than one use. In the example shown here, instead of having a fish pond separate from an orchard, agroforest or forest garden the two are integrated for increased efficiency. I'm starting to see this type of agricultural practice here and there. I imagine the idea sprang from growing fruit trees next to a lake or pond. If the surrounding land is about 6'-8' (2m) above the water table, the tree roots can readily reach the water so no irrigation is needed after the first few years. There are lots of possibilities with this basic concept. The ratio of land to fish pond can be changed depending on what you want to produce the most of. The height can be adjusted according to the type of trees. And the overall size and shape can be adjusted to fit your homestead or farm.
The system described above is one example of integrated farming (or permaculture, depending how you categorize things).
"Integrated farming or integrated production is a commonly and broadly used word to explain a more integrated approach to farming as compared to existing monoculture approaches. It refers to agricultural systems that integrate livestock and crop production and may sometimes be known as Integrated Biosystems.
While not often considered as part of the permaculture movement Integrated Farming is a similar "whole systems approach" to agriculture. There have been efforts to link the two together such as at the 2007 International Permaculture Conference in Brazil. Agro-ecology (which was developed at University of California Santa Cruz) and Bio-dynamic farming also describe similar integrated approaches.
Examples include:
– "pig tractor" systems where the animals are confined in crop fields well prior to planting and "plow" the field by digging for roots
– poultry used in orchards or vineyards after harvest to clear rotten fruit and weeds while fertilizing the soil
– cattle or other livestock allowed to graze cover crops between crops on farms that contain both cropland and pasture (or where transhumance is employed)
– Water based agricultural systems that provide way for effective and efficient recycling of farm nutrients producing fuel, fertilizer and a compost tea/mineralized irrigation water in the process."