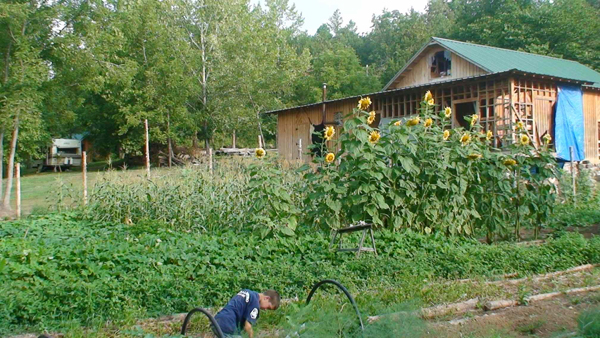 "The back-to-the-land movement calls for occupants of real property to grow food from the land on a small-scale basis for themselves or for others, and to perhaps live on the land while doing so.
The concept was popularized in the United States at the beginning of the 20th century by activist Bolton Hall, who set up vacant-lot farming in New York City and wrote many books on the subject. The practice, however, was strong in Europe even before that time.
It also referred to distributism, a 1920s and 1930s attempt to find a third way between capitalism and socialism. It was later used to refer to a North American social phenomenon of the 1960s and 1970s. This latter back-to-the-land movement was a migration from cities to rural areas that took place in the United States, its greatest vigor being before the mid-1970s.
The American social commentator and poet Gary Snyder has related that there have been back-to-the-land population movements throughout the centuries, and throughout the world, largely due to the occurrence of severe urban problems and people's felt need to live a better life, often simply to survive.
What made the later phenomenon of the 1960s and 1970s especially significant was that the rural-relocation trend was sizable enough that it was identified in the American demographic statistics.
Roots of this movement can perhaps be traced to some of Bradford Angier's books, such as At Home in the Woods (1951) and We Like it Wild (1963), or perhaps even more compellingly to the 1954 publication of Helen and Scott Nearing's book, Living the Good Life. This book chronicles the Nearings' move to an older house in a rural area of Vermont and their self-sufficient and simple lifestyle. In their initial move, the Nearings were driven by the circumstances of the Great Depression and influenced by earlier writers, particularly Henry David Thoreau. Their book was published six years after A Sand County Almanac, by the ecologist and environmental activist Aldo Leopold, was published, in 1948. Influences aside, the Nearings had planned and worked hard, developing their homestead and life according to a twelve-point plan they had drafted."
Wiki
Latest trends? Please leave a comment below if you know of specific demographic information.
Image credit: 200 Acre Woods Homestead