Sketch Design Studio designed and built this Mud House in Rajasthan to reference the multi-storeyed stepwells, which date back to the seventh century and are characterized by grids of crisscrossing diagonal staircases. The house combines rammed earth and stone walls with a thatch roof.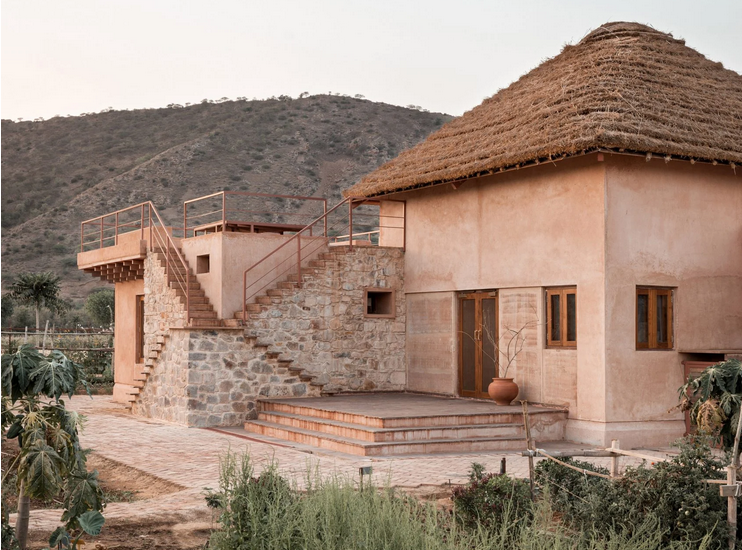 The house features two roof terraces that are accessed by staircases that overlap in a similar way.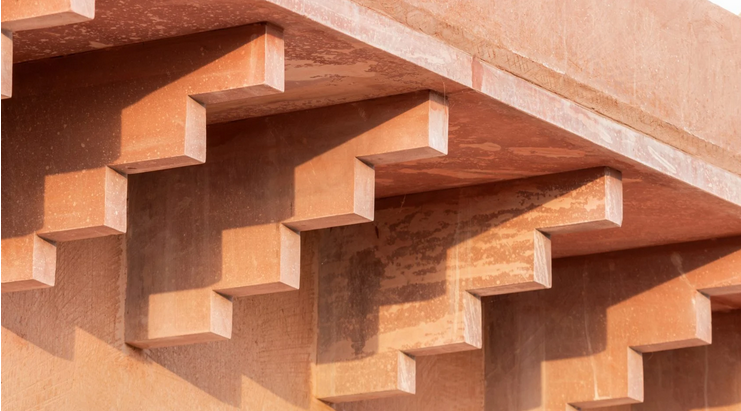 The effect is emphasized by stone roof brackets with matching stepped forms.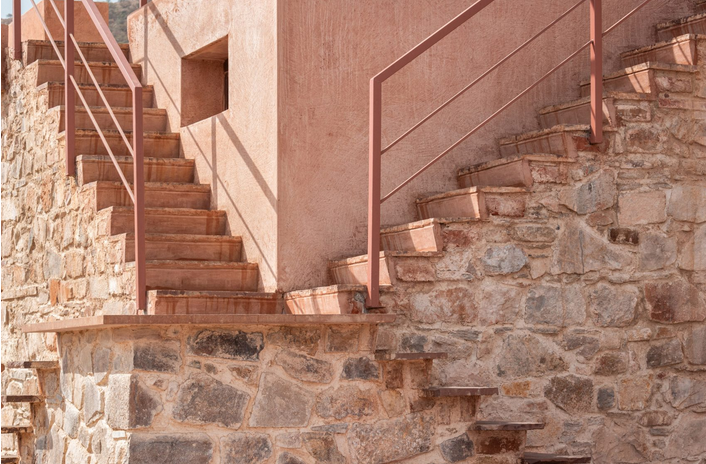 "Throughout the building process, we tried to focus on local artisanal building techniques and materials in the same form they were being used hundreds of years ago," said studio founder Shipra Singhania. "A lot of research and talking to elderly masons have helped gain all the knowledge which has helped towards building this house."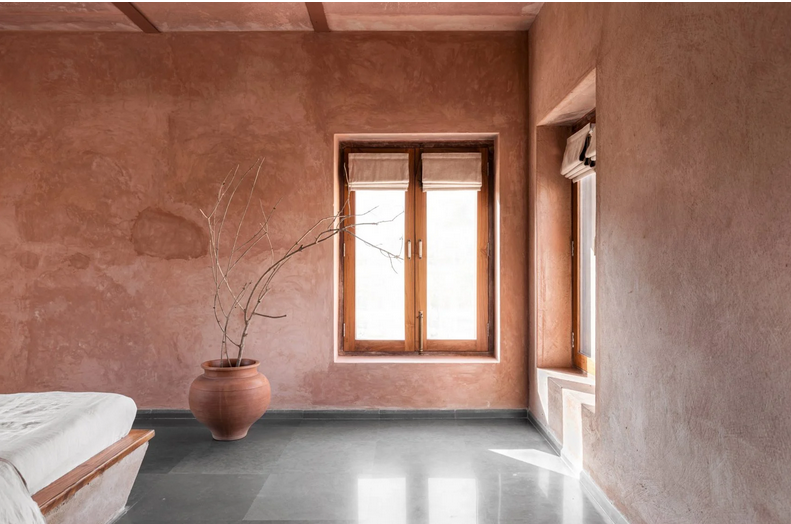 The earth for ramming was sourced on site and mixed with lime and fenugreek seeds as natural binders. "Edibles like jaggery and a popular Indian medicinal leaf, Neem, were also added to the mix which act as natural insect repellents," said Singhania.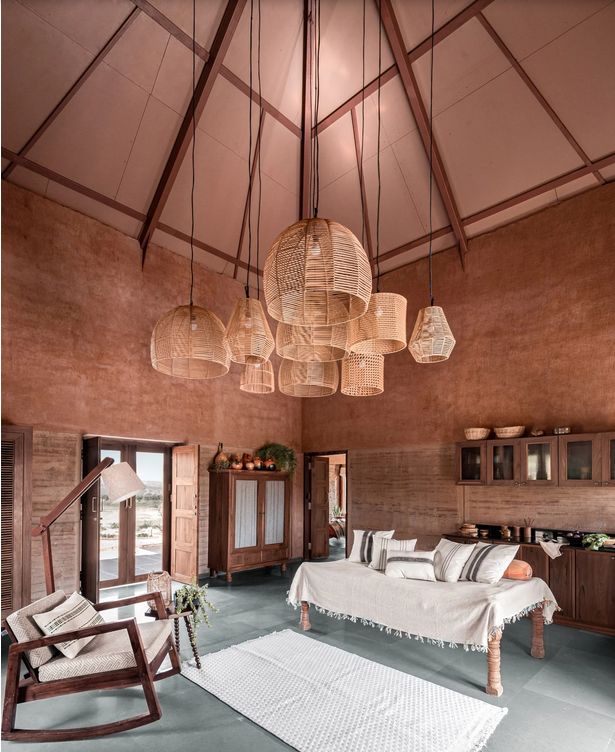 The thatched roof that tops the building is formed of local wild grasses, bound into a pyramid shape.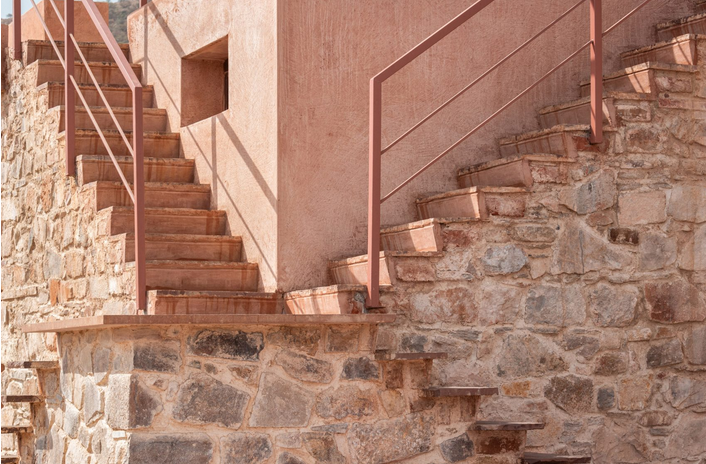 Other elements of the structure are built from reclaimed stone. "To reduce the carbon footprint, we used no cement," said Singhania. "The mortar used for the stone masonry is bagra, which is waste left behind in lime kilns after processing limestone. This sustainable technique of building with lime waste has been used by nearby villages for centuries."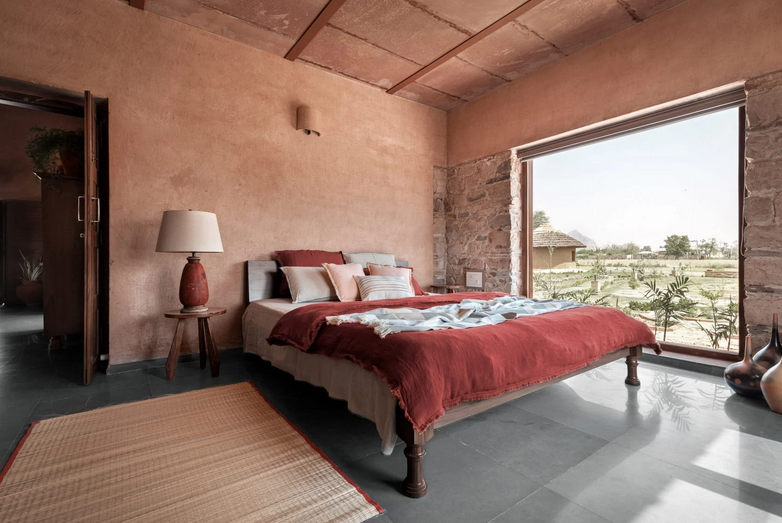 Inside, the pyramidal form of the timber-framed roof creates drama in the combined living room and kitchen. A central hallway links these spaces with the two bedrooms and leads out to a patio deck and vegetable garden.
The layout is designed to suit the local extreme climate, which some spaces designed to offer shade in summer and others that allow residents to enjoy sun in the winter. Roof cantilevers help to shade windows, while also expand the size of the roof terraces.
The interior walls have a rust effect created by mixing brick powder with lime. "It is our effort towards bringing architecture closer to Earth through materials and a sustainable lifestyle," concluded Singhania.
Other examples of architecture inspired by stepwells include the Chongqing Zhongshuge Bookstore in China and Heatherwick Studio's controversial Vessel in New York.
You can read the original article at www.dezeen.com The photography is by Jeevan Jyot.