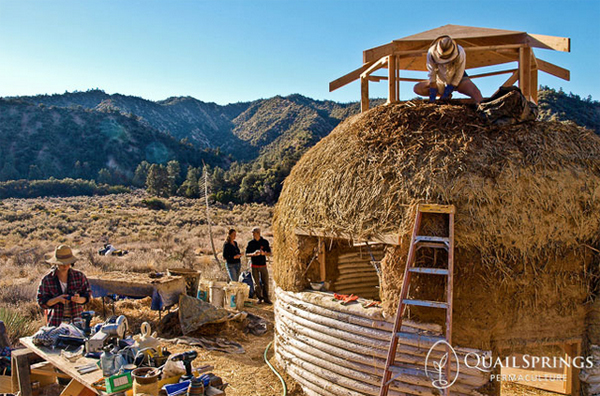 "When I started this building my intention was to make the building process fun. I invited 5 friends to come work with me for a month, and we got the basic framework up, and we did indeed have a lot of fun doing it! Although I have been the main builder working on and off between other projects finishing it, I have received a huge amount of help from all the community members I live with. There are about 20 of us living in this beautiful canyon in the high desert in southern California, and I can not express enough gratitude for all of their help.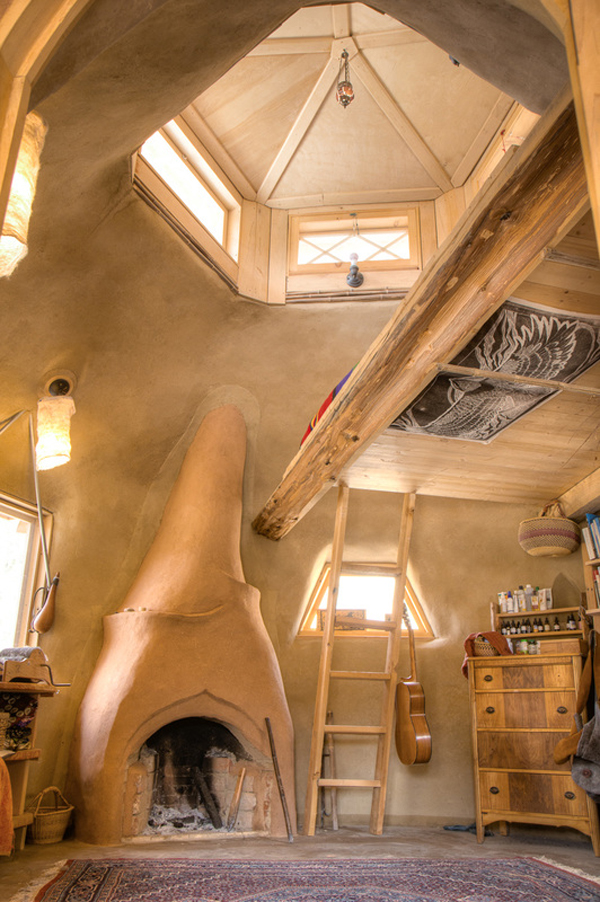 Although the material cost of this style building is relatively low, it is made up for in labor. It almost necessitates community support, which results in beautiful community building. We host a lot of workshops, classes and school groups, which has led to groups of college kids from Minnesota helping with the floor, people from an outdoor school in Washington helping with the plaster, and my Dad came down and built the cupola on top of the dome, to just mention a few. I would guess that close to 100 people have put their hands in this building.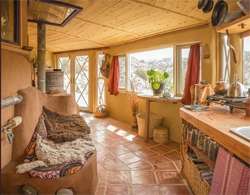 This structure is built of a combination of earthen building techniques, all of which utilize different combinations of clay soil and sand harvested from the land, and straw. The resulting techniques that the building is made of is cob, earthbag, light straw clay, and adobe. The floors are earthen floors, sealed with linseed oil and bees wax. The house is heated with a rocket stove that is also built out of cob. The roof is a sealed lime. The house is about 450 square feet."
Lots more photos: http://www.earthenshelter.com/dome.html
Desert Cold Storage
pic Quail Springs natural building workshops
More about natural building workshops by Earthen Shelter
"Teaching Natural Building Workshops: Cob, Adobe, Light Straw Clay, and Natural Plasters.
Sasha Rabin has been practicing and teaching natural building since 2002. She has dedicated her work to encouraging people to engage with our built environment, and through that process reconnect with world around us."