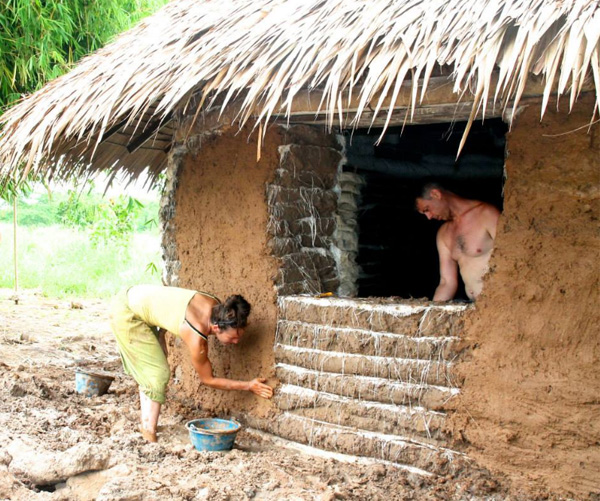 "We currently have two earth building projects in the works here at New Life. The first is an adobe hut with a living roof that we started building during the Winter Solstice Festival in December of last year, which is now very close to completion.
The second is a roundhouse made using an earthbag technique. The team is being led by New Life long-term volunteer and earth building specialist Richard Grinchis. We constructed our three adobe huts and forest hall using mud bricks, so earth bag building is a new technique that we're experimenting with. It involves filling bags with an earth-clay mixture and arranging them in shape, before rendering and sealing the entire structure with adobe clay. The earth-clay mixture dries very hard and is extremely strong and durable. For this hut we chose a perfectly round shape.
One advantage that earthbags have over mud bricks is that they're much more time efficient than making mud bricks. With mud bricks, we need to cast them into moulds, wait for them to dry, and accumulate enough to start building. With earthbags, we can start building the house right away and the construction process goes much faster, although it is much more labour intensive, with lots of heavy lifting involved.
It's hard to believe how quickly this hut has gone up, from choosing the site, laying the foundation, and commencing the construction of the earth bag walls in late March 2014. In order to build the walls, the bags are laid into place and then filled bit by bit with earth and clay from buckets.
Due to budgetary and other constraints, the team has had to make some improvisations during the construction process. For instance, typical earthbag building involves fortifying the structure by using barbed wire between each of the layers of earthbags. However, barbed wire was too expensive, so the team innovated by using metal pins to stabilise the bags when the wall reached 4 or 5 layers high.
Also, we didn't have wooden 'forms', which act as placeholders for the windows. Therefore, the windows were marked out and then fortified with planks of strong teakwood as well as a ring of cement to stop them from caving in later. Once the walls are completed we'll push the earthbags out and voila – windows! Similarly, the team lacked enough mud bricks to use as a form for the door, so they built up the door halfway, laid a plank across the middle, and then re-used the same bricks on top of the plank.
We also used shade cloth on the roundhouse. Just pinned it with bamboo sticks.
When the earth in the bags was dry, we ended up cutting the bags completely off, as our earth render bonded fast to the exposed and hardened earth that had been contained in the polypropylene."
More at the source: New Life Foundation.com
Here's a bunch of new photos.