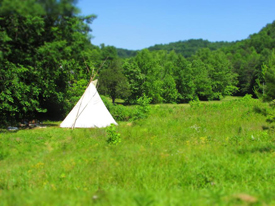 "Just wanted to chime in that we (Joana, Michael & Loren) are building in Rockcastle County, Kentucky and there are no building codes or regulations. We asked at the courthouse where the building regulations department was when we were thinking about buying the piece of property we are currently building on….they said with a certain measure of pride "Do you see a codes and regulations department in this courthouse? The people don't want it!"
We have 62 acres and are open for visitors and possible long-term/permanent residents to join us on this beautiful land!
So there seems to be no building codes or regulations at all. It is one of the most impoverished counties in the country, many people live in trailers. We're building an Appalachian-style log cabin with hand tools. We've cut all the tulip poplar with a broad axe and collected all the water reed for the thatch roof. Construction resumes this spring and we invite whoever wants to come help us build and learn together!
Advantages of living in our area — a great community of progressive-minded people in our valley, 3+ generation range of age, weekly gatherings and events in community, Berea College very close (progressive college with free tuition for certain demographics), steady four seasons, abundant year-round springs that we drink from, very diverse flora & fauna, no fracking in area, no agriculture in area (people grow hay with their land)."
Contact us at this email. Thanks!
Michael Beck michael@thepoosh.org