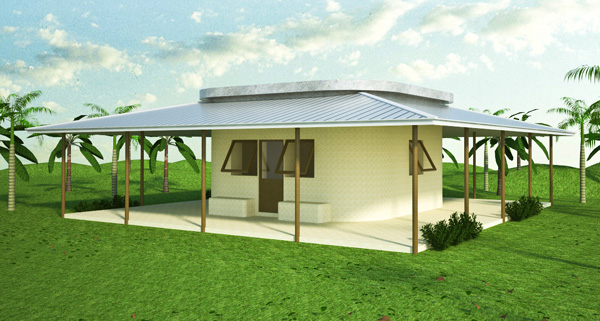 From the archives — I realized yesterday that this open source disaster resistant earthbag house could be easily adapted to Nepal.
Add a roof of recycled wood and metal roofing and for very little money (under $1,000) you'd have a safe, decent home in short order. This design is 25 sq.m (270 sq.ft or about 16'x16' interior) It's extremely simple and easily to build.
The small symmetrical plan, rounded corners, single story, lightweight roof, and earthbag benches all help make this house earthquake resistant. The porches (which could be added later) provide a lot of outdoor workspace that could be left open or enclosed to create future living space. In other words, this design provides a safe, low cost, disaster resistant core that's culturally appropriate and can be easily expanded later on.
For maximum strength, please refer to our earthquake resistant earthbag building guidelines for Nepal.