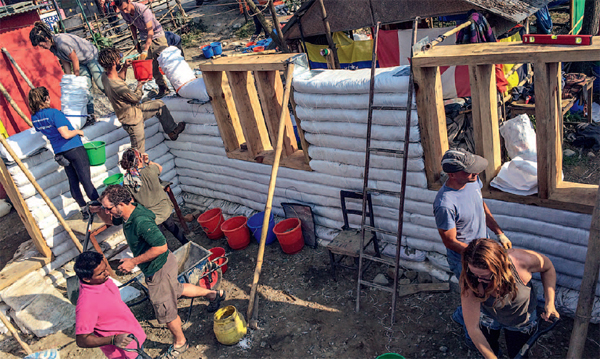 Lynda at The Owner Builder Magazine kindly sent us this excellent article written by Mark Clayton. Full text is available through their magazine or by downloading it from Earthbag Building.com.

"Arriving on site I could see the initial footings were in place but that was about it. I also spotted that the 'sausage bags' [earthbag tubes] for earth building had recently arrived. Introducing ourselves to Prem, we found that the project was taking a little longer than planned and that currently there was no project leader driving the project.
I immediately saw this as the project for us. I had gained experience working with earthbag on a superadobe project a few years prior in Adelaide so was, to some extent, familiar with the building method. The next day I arrived on site about 9am to meet John, the only volunteer at that point. John and I spent the day organising the site, working out what needed to be done, what materials were required, and setting a plan for the coming weeks.
Earthbag construction is reasonably new in Nepal, although it is getting more attention due to the simplicity of the building techniques, economical build cost and, more importantly, the fact buildings can be designed to withstand earthquakes, therefore future proofing the building."
Attracting volunteers turned out to be easier than I thought, which was fantastic! As we started building the walls and visible progress was made on site, we attracted the attention of passersby. Their intrigue to ask what we were doing led to our consistent greeting of 'Have you come to volunteer and help us build?' as we, not so subtlely, handed them a shovel. This technique proved very successful and by day seven we had a committed team of 10 regular volunteers and usually two or three more ad hoc."
The Owner Builder Magazine – June/July 2016