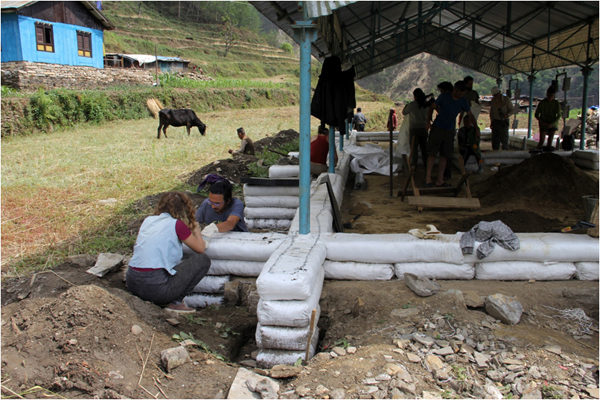 Phulping, Sindhupalchok: This first of its kind school reconstruction project reuses existing steel posts, steel trusses, metal roofing, foundation, concrete slab floor, windows and doors, and integrates them with earthbag tube walls. The design is very strong because the steel frame braces the earthbag walls, and the earthbag walls and buttresses reinforce the steel posts.
The walls are built by wrapping the polypropylene tubing around the posts and continuing the earthbag wall. This way the whole building will act as one structure during an earthquake. This is a very important project because I've been told there are thousands of similar schools across Nepal. Reusing the existing steel structures and foundations saves thousands of dollars per school, and also reduces labor and time of reconstruction considerably.
Nepal needs to rebuild approximately 100,000 new schools, so if this project is successful then the savings multiplied by thousands of schools will be significant. I'm not sure of the exact figures, but here is one approximation. Let's say there are 5,000 similar schools and each one is built for $10,000 less than a new school. That's a savings of $50 million US dollars. This project is so important that Good Earth Nepal, the NGO that is currently rebuilding the school, is planning to make a training video to help gain support by other NGOs and government entities to rebuild other schools this way.
In my opinion this is an award winning idea and so the extra effort to document the project is time well spent. I believe it will be a signature project for Good Earth Nepal. Also noteworthy were the high caliber engineers and architects who attended the recent earthbag training that I participated in. They were clearly impressed with the concept and very much enjoyed the training.