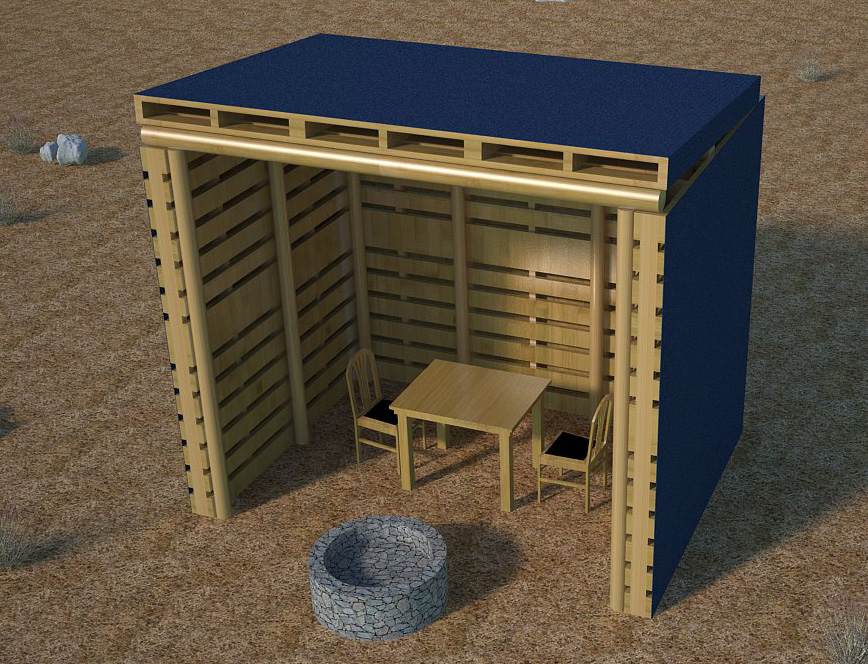 This is the second installment of my low cost desert shelters that have been designed with economic refugees in mind. These desert shelters were inspired by Phillip Garlington's website at Rancho Costa Nada. His book Rancho Costa Nada: The Dirt Cheap Desert Homestead is available through Amazon and Smashwords.
Phil Garlington and I both agree on the importance of starting out with quick, easy, simple shelter. One of the easiest ways to build a quick shelter at little or no expense is with recycled pallets. Pallets are typically available for free most anywhere in the world. A few pallets, nails and some posts can be turned into a shelter in about one day. You could build something more comfortable and durable later once you have basic shelter. The main idea here is to block the wind and sun so you have a place to relax and cook, thus the 3-sided design covered in blue tarps.
The 63-square foot Pallet Desert Shelter could be upgraded over time if needed. It could be enlarged by adding more pallets and posts, and/or enclosed with a fourth side, door, windows and so on. There are almost no limits to what is possible. You could even turn this into a nice little house with enough time and effort. As an example, my Economizer house plan is based on standard pallet sizes, although it could also be built with earthbags, straw bales and other materials. Free plans for the Economizer are available by writing the author at strawhouses [AT] yahoo.com.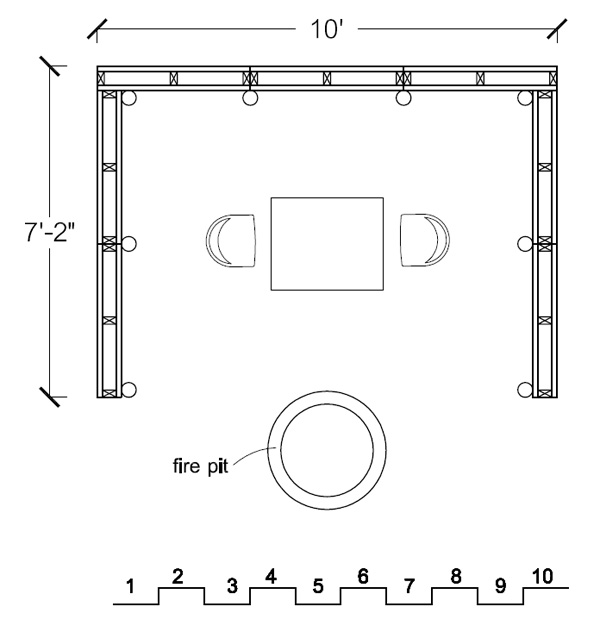 Construction options:
– Basic building process: set the posts, attach pallets, cut the top of posts, add beams and roof, cover with tarps
– Posts: wood poles, metal fence posts (galvanized or t-posts), salvaged 2x4s (bare minimum), 4x4s, two 2x4s nailed together, salvaged pipe
– Ideally the posts are set in concrete for maximum strength, but in reality this is most likely a temporary shelter and so concrete isn't essential.
– Fasteners: nails, galvanized wire, baling twine, poly rope, etc.
– Beams: two 6"x10' wood poles of sturdy wood are recommended. One beam supports the front edge of the roof; the other beam supports the center of the roof.
– An optional gap between the roof and walls is included for ventilation. This could be covered with tarps if you don't want the ventilation.
– Larger structures: add an earthbag (sand bag) foundation and horizontal 2x4s between courses of pallets and on top of pallet walls for added strength.
– Use rot resistant poles (metal pipe, etc.) if you plan to build a large structure.