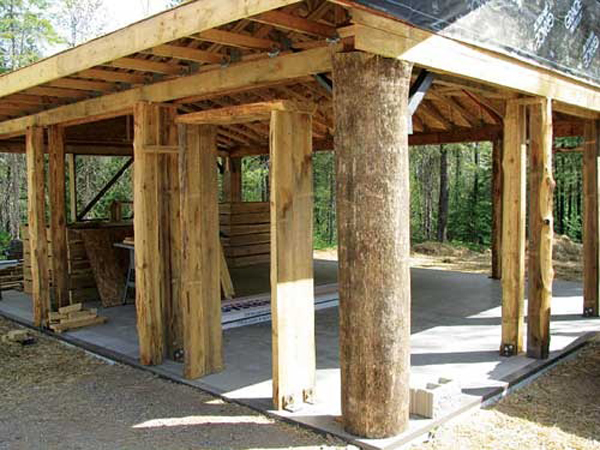 We've discussed building with recycled wood in great detail in previous blog posts. Use the search bar on the right side of the page to find other articles. This blog post is about using reclaimed/recycled wood and locally harvested wood for the post and beam frame. This includes using standing dead trees that are still solid and blowdowns from storms.
Post and beam construction is one of the best, most practical, least expensive and most popular building systems in the world. There are countless structures world-wide that are still standing after many centuries. Unlike stick framed houses, sturdy timbers are naturally pest and fire resistant; they meet Class A fire codes for public structures.
Key advantages to pole building and post and beam building include speed, strength, ease and lower cost of construction. The older wood is often stronger than new wood because the tree rings are more closely spaced. Post and beam is also an excellent way to build on sloped properties, which often cost far less than level land. Also, timber frame homes can obtain building permits if you follow the codes. This is one of the best ways to 'sneak' or ease alternative materials through the code process.
Building the frame and roof first enables you to work out of the elements and keep tools and materials protected. Straw bales, for instance, are easily damaged if stacked outside. The recommended procedure is to finish the roof first and then have the bales delivered and stacked inside so they never get rained or snowed on.
Another key advantage is the natural adaptability of post and beams with straw bales, cordwood, earthbags, adobe, stone and other natural sustainable materials. All of these materials typically create thick walls about 18"-24" wide. And because of the inherent beauty in natural materials, they create very beautiful homes.
Last but not least is post and beam construction is well suited for owner-builder projects. Almost anyone can build this way. You don't have to learn complex dovetail joinery. There are lots of simple, far easier joinery methods. For instance, check out our previous blog post about the Dunne family's post and beam house. You can even find a free pole building book on the Internet (oldie but goodie) that shows the construction details.