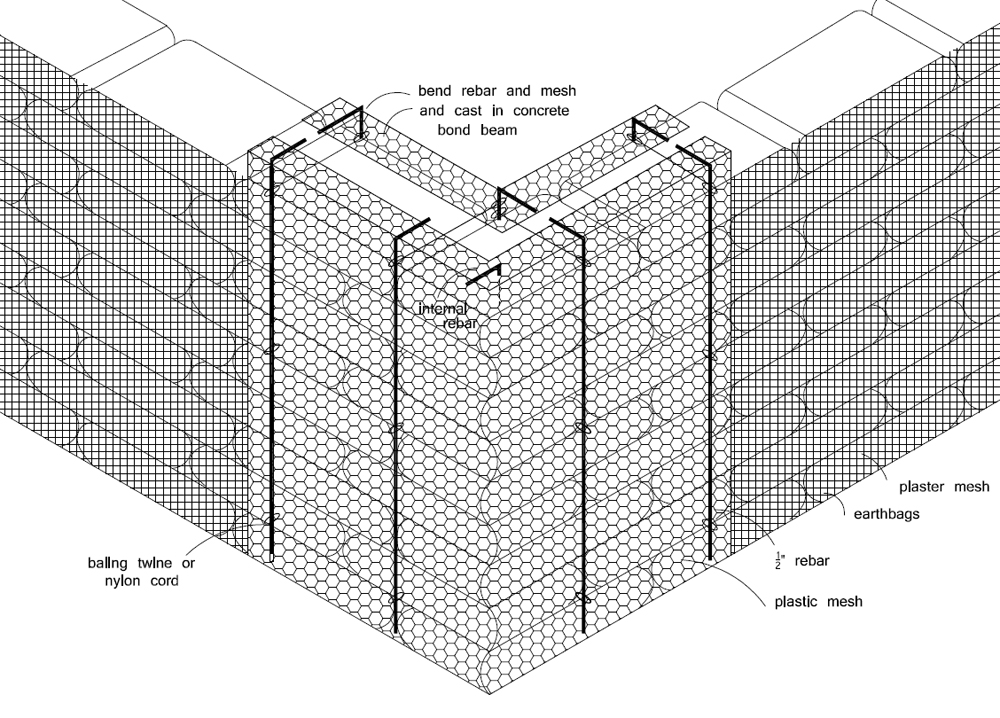 The idea presented here is for Haiti and other areas susceptible to earthquakes. It's a very simple concept, but even small steps like this one can save lives.
The main idea involves reinforcing corners of earthbag buildings with plastic mesh or plastic fencing. For background information, see my previous post on Low Cost Reinforcement of Earthbag Houses in Seismic Areas that discussed the research at the Catholic University of Peru. Blondet, one of the lead researchers on the project, said plastic reinforcement mesh was the strongest method they've tested in 35 years of seismic research.
The main addition here is ¼" rebar to secure the plastic mesh. Add ¼" rebar and plastic mesh on both sides of the wall and tie together through the wall with baling twine or nylon cord. Bend the rebar and plastic mesh at the top of the wall and embed in the reinforced concrete bond beam. Embed it in the concrete foundation if you have one. Lower cost chicken wire or fishing net may be adequate for the remainder of the walls. There's also a 1/2″ internal rebar pin pounded through corner bags. Note: earthbag walls in non-seismic areas typically do not use mesh unless required by code.