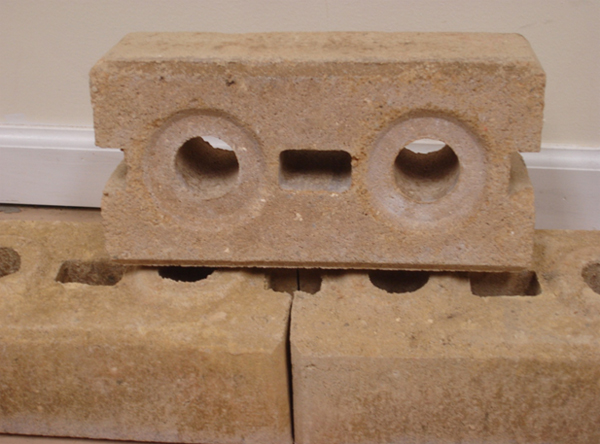 "The following study was done to test the feasibility of interlocking soil/cement compressed blocks in residential construction in North America. The study collected data on compressive strength of the blocks as well as observations on how they can be used.
Soil/cement Block (also known as Compressed Earth Blocks or CEBs):
A soil/cement block is a compressed block made from a mixture of subsoil, cement, and water. Many different types of earth blocks have been used throughout the world for centuries. The soil/cement earth block has several advantages over traditional earth blocks.
Traditional earth blocks can be made from clay, mud, and farm residue (straw, rice husks, hemp, etc). Many of these blocks can be swept away by heavy rains or flood. The soil/cement earth blocks have a small percentage of cement mixed in with the subsoil to stabilize it. The sand and silt in the soil reacts with the cement when it is mixed and compressed. After the block is compressed, it requires only air and water curing.
Soil/Cement Blocks also offer advantages in construction time due to the block having a male and female interlocking system. The blocks interlock without the use of mortar in between each layer (The exception is the first layer which has to be mortared and leveled on the foundation footers). The simplicity of the system also allows untrained labor to be used, reducing construction costs. The shape of the block also has hollow openings that allow the use of steel reinforcement and the placement of grout.
There are many different types of machines and presses that can be used to make these blocks. Some presses require the use of human power and others involve electrical hydraulic compression. For this study, a hydraulic press was used. This allowed one person to operate the machine. Consistent compression could also be achieved because of the electrical motor. The machine was made by Shandong Shengya Machinery Company in China. The machine used about 2.2 kw of electricity during production. On assembly line production this press can do about 2.5 blocks per minute on average. I am sure with trained labor a press operator can exceed 3 blocks per minute.
Economics of block production:
The machine that we used can produce about 1200 blocks in an 8 hour shift. The block measured 150x300x100cm. Since the study's goal was not originally designed to provide economic figures, I only made rough estimates during the study. If 3 laborers were hired at 12 dollars an hour, the labor cost per block would be less than .25 cents per block. Subsoil and cement rates can vary throughout the country. The ranges can go from 12- 35 dollars a ton for soil depending on the delivery charge. Even with these price ranges, a block can still be produced for under .55 cents including labor."
The full report will hopefully be available soon.
You can reach Naveed at naveed3485 [AT] yahoo.com
Owen: Are you getting stronger, more uniform results with a hydraulic press?
Naveed: We noticed during the manual press there is inconsistency but because of the new hydraulic machines they are less prone to this. There is a company called roadpackers international that is selling a clay stabilization liquid that allows the block to be stabilized without cement or extremely small amounts. I will try to do some tests with this as well because cost will be even cheaper. Usually the high clay content would mean you have to add sand and more cement but Roadpackers liquid stabilizer works best with high clay soils and does not need the added cement or sand. My friends in Missouri are set to build Aug. 13. I will have pictures for you when everything is complete.