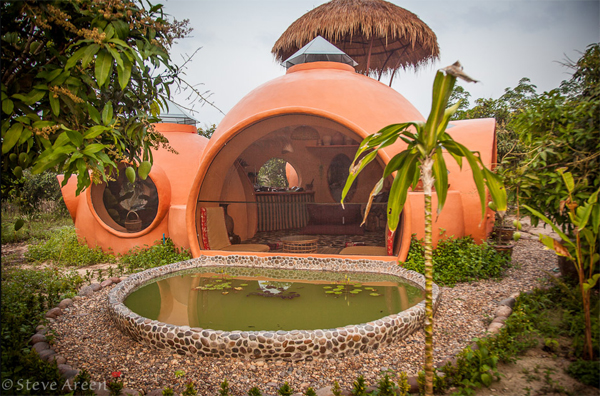 "On a large organic mango farm, far into the countryside of northeastern Thailand, I have designed and built my little dome home. Enjoy the tour! And if you would like to see the creation of my home, click here.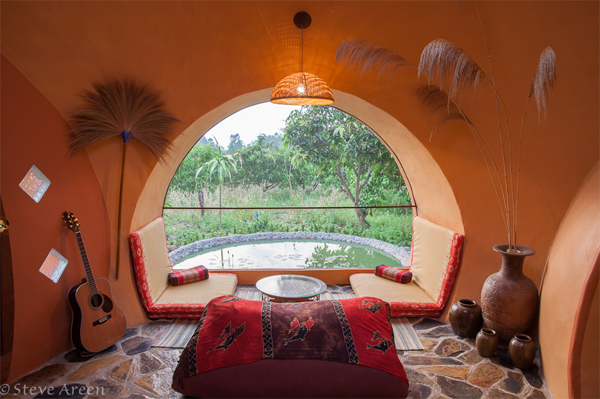 In 2011 I had a wonderful visit with my friend Hajjar. For years he has inspired me with his creative ideas. This time it was dome building. Hajjar, who's actually my brother in-law's brother, was using a pivoting arm to help create a perfect sphere. He and his wife offered me a spot on their large mango farm to build my own dome. Well, in about six weeks, my worker Tao and I, along with an occasional third worker, had my dome house up and painted. The cost for the basic structure was under $6000. It took a few more months to add the details, such as doors, screens, shelves, pond, gazebo, stonework and landscaping. All this, including furnishings, filtered well water and hot water, was under $3000. Bringing my total cost to about $9,000. Along with affordability, not having building codes and inspectors was also pretty sweet. Enjoy the pics and if you have any question please feel free to contact me." Cheers, Steve
Note: Steve's dome home is made with concrete block (not very sustainable) and low fired brick (low impact material). His home is featured here on our Natural Building Blog for its striking design aesthetic. So in this instance Steve's house could have been built much more sustainably if he'd gone entirely with low fired brick.