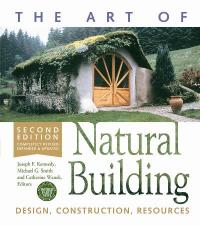 "Completely Revised, Expanded and Updated
Design, Construction, Resources — edited by Joseph F. Kennedy, Michael G. Smith & Catherine Wanek
The popularity of natural building has grown by leaps and bounds, spurred by a grassroots desire for housing that is healthy, affordable and environmentally responsible. While there are many books available on specific methods such as strawbale construction, cob or timber framing, few other resources introduce the reader to the entire scope of this burgeoning field.
Fully revised and updated, The Art of Natural Building is the complete and user-friendly introduction to natural building for everyone from do-it-yourselfers to architects and designers. This collection of articles from 60 leaders in the field is stunningly illustrated with over 400 photos of natural buildings from around the world. At 465 pages, this massive resource is over 50% longer than the original edition. Out of 64 chapters, 26 are new to this edition, and nearly all the rest have been completely revised to reflect recent developments.
Clearly written, logically organized and beautifully illustrated The Art of Natural Building is the encyclopedia of natural building."
More at the source: New Society Publishers
*This is by far the best book available on natural building. The first version was excellent. This one is way better. This book should be required reading for every serious architecture student. Disclaimer: One of my articles is in the book; however, I didn't get paid for it. I just got my copy today and can't say enough good things about the book. Even those who've been studying natural building for years will learn lots of new things. It's not just a bunch of fluff. It's chock full of important details. My review rating is 5 Stars.