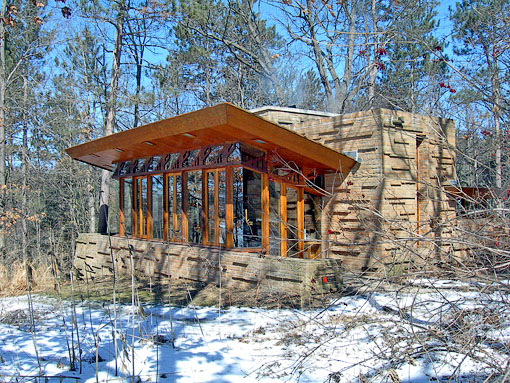 "Taliesin Apprenticeship was the most important experience of my life. I was nineteen in September of 1959 when my father dropped me off at Tanyderi and drove off down the hill. The room assigned to me was on the top floor with an eastern view toward Taliesin in the distance. Each morning at sunrise I would awake and look over toward the sun rising over Taliesin. I was in paradise. I had come to Taliesin with one intention, to see if in my own mind I could be an architect. I wanted to design buildings the way Frank Lloyd Wright designed his architecture. I had decided I would stay at Taliesin until I learned how to do this.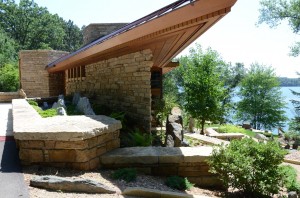 In May of 1960 there was a very important book published and I had a copy in my hands and was reading it that summer. The book, "Frank Lloyd Wright: Writings and Buildings", selected by Edgar Kaufmann and Ben Raeburn. This book had the secret of creative ideas in Mr. Wright's own words. There on page 221 in my copy was and is the secret, under the heading "The Concept and the Plan", and I include the complete text here as follows.
The Concept and the Plan
"…Conceive the buildings in imagination, not first on paper but in the mind, thoroughly, before touching paper. Let the building, living in imagination, develop gradually, taking more and more definite form before committing it to the drafting board. When the thing sufficiently lives for you then start to plan it with instruments, not before. To draw during the conception or sketch, as we say, experimenting with practical adjustments to scale, is well enough if the concept is clear enough to be firmly held meantime. But it is best always thus to cultivate the imagination from within. Construct and complete the building so far as you can before going to work on it with T square and triangle. Working with triangle and T square should be only to modify or extend or intensify or test the conception; finally to correlate the parts in detail.
If original concept is lost as the drawing proceeds, throw away all and begin afresh. To throw away a concept entirely to make way for a fresh one, that is a faculty of the mind not easily cultivated. Few architects have that capacity. It is perhaps a gift, but may be attained by practice. What I am trying to express is the fact that the plan is the gist of all truly creative matter and must gradually mature as such.
… In the logic of the plan what we call standardization is seen to be fundamental groundwork in architecture. All things in nature exhibit this tendency to crystallize; to form mathematically and then to conform, as we may easily see. There is the fluid, elastic period of becoming, as in the plan, when possibilities are infinite. New effects may then originate from the idea or principle that conceives. Once form is achieved, however, that possibility is dead so for as it is a positive creative flux"."
Source: James Walter Schildroth, Organic Architect
Image source: Boutique Homes.com
Image source: Swipelife
Image source: Niwa Design.com