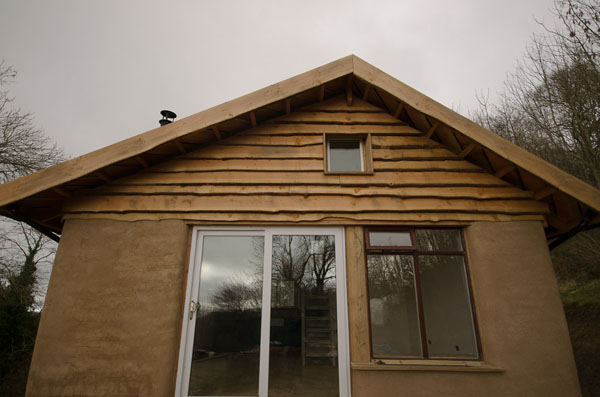 "This project in Powys, Wales was set in a small clearing in an Ash (Fraxinus excelsior) woodland. The client wanted to blur the lines between interior and exterior and create something that fits into the landscape. The house had to be eco-friendly, healthy to live in and affordable.
The project is 30sqm internally (460sqft), with a 12.5sqm mezzanine. Budget was £45,000. To achieve the brief we used large glass sliding doors on the South and West sides. The open plan nature of the space gives a larger feel and keeps the connection to the outside throughout the house. A large wrap around deck is soon to be constructed to further connect inside and outside space.
Local materials and materials traditional to the area were used. Lots of wooden features echo the surrounding, much left with the waney edge left on and all sourced from the local area.
The building was plastered with site clay and local sand. Externally we added welsh lime to increase durability to the wet climate. Insulation came from wheat straw, baled by a local farmer, welsh sheep wool and Thermofloc recycled newspaper cellulose. Locally grown sedum is growing on the green roof. The foundations utilise car tyres, a waste product, rammed with gravel to provide a low cost, non permeable, soid footing for the building.
Due to the tight budget, the use of reclaimed materials was key. Bathroom tiles, sinks, taps, windows and flooring were all salvaged from building sites or found second hand.
Because of our unique intern build method, we were able to utilise the materials on site and recondition the reclaimed materials. The interns received hands-on experience and education in natural building and green design in return for some good hard work. This meant that the project stayed on budget and used the most sustainable local materials."