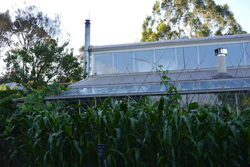 "This place, Melliodora. A world renowned permaculture homestead, full of nut, fruit and forage trees, geese, goats, berries, vegetables, mudbrick homes and lives worth living.
If you have studied, read or participated in any Permaculture-type doings and learnings in Australia, then you'll be aware of the stellar home-scale permaculture demonstration site that is Melliodora, in Hepburn, VIC.
Founded by David Holmgren (co-originator of Permaculture) and Su Dennett + their family in 1985, this site has been progressed from a blackberry covered hill to a hectare settlement of self-reliance and low energy living at its best.
The mud brick solar passive houses, the forest gardens, the energy efficient approach to all aspects of living, the water in landscape design, the animal systems. There's so much to take in.
Melliodora is, as well as being an incredible homestead and a model of resilient living, also one of the most documented permaculture sites – see the bottom of this piece for lots of resources.
And so I'd always wondered – what would it be like to sit in the middle of a system like that?"
More at the source: Milkwood Blog