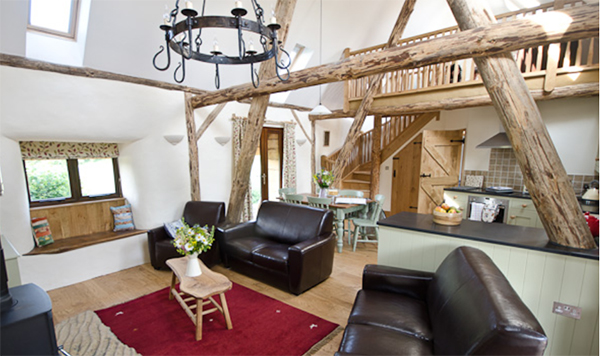 Located on a working dairy farm on the edge of the South Downs National Park, this unique roundwood timber, straw bale and cedar shingle holiday cottage is the perfect spot to escape and unwind.
Inspired and built by Ben Law and his team (as seen on Channel 4's Grand Designs) the cottage is a testament to contemporary green building practice. Supremely comfortable, beautifully furnished and well equipped yet made by local craftsmen using local materials.
We have tried to make Withyfield as sustainable as possible. We love the fact you can sit on the deck and see the wood where the trees that clad the outside were felled and then, of course, replaced.
In fact, all the wood has been grown in West Sussex and a lot of it has come from the nearby Cowdray Estate. The clay plaster render used to seal the gaps on the outside is made of Weald clay taken from the foundations. Our straw insulation comes from a neighbour's farm and the cedar shingles for the roof are made from local wood.