Fuel Efficient Cooking with an Insulated Box
"What a great example of using a retained heat cooker! Cooking beans is the perfect example of the strength of using a thermal type cooker. All the goodness with 80%-90% of the fuel being saved."
The video demonstrates how to cook beans with just 15 minutes of stovetop cooking (once brought to a boil). Then the cast iron pot of beans is placed in an insulated container. Food cooked this way tastes better and is more nutritious because nutrients aren't boiled off or destroyed by high heat. You save a ton of money on gas or electricity. You don't overheat the kitchen. Plus, it's worry free – no need to watch over it, no stirring, no burning, and it frees up the stovetop for cooking other things.
Combine the retained heat cooker with a rocket stove. Heat the food initially on a rocket stove fired with twigs and branches then place in the insulated basket. This means you can slash your energy consumption to essentially zero. That's right – zero energy cooking! Use the search engine on the right side of this blog page and you'll find lots of info on building low cost rocket stoves.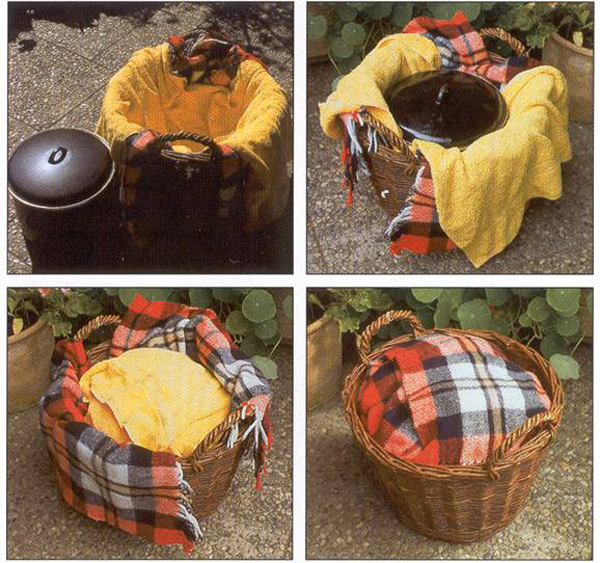 "A haybox is an insulated container which can make significant fuel savings – up to 70%! Just bring the food to a boil, place the pot inside the haybox, and cover. The haybox will contain the heat in the food so that it will continue cooking without using extra fuel."
Cooking times:
Food: Boil time: Haybox time:
Rice 5 min 1-1.5 hours
Potatoes 5 min 1-2 h
Soup and stock 10 min 2-3 h
Green Lentils 10 min 3-4 h
Pintos 10 min 3 h
Split Peas 10 min 2 h
Quinoa 5 min 1.5 h
Millet 5 min 1 h
Polenta 1 min 1 h
Winter Squash 5 min 1-2 h
Steamed bread 30 min 3 h
Chicken 6 min 2-3 h
Beef 13 min 3-4 h
Haybox notes:
Aprovecho's Guide to Hayboxes and Fireless Cooking, by Peter Scott, et al. Aprovecho Research Centre. (Brochure)
Fireless Cooking, by Heidi Kirschner, Madrona Publishers. 1981.
Source: Thermal Cooker Thermal Cooking Weblog
Haybox cooker
Only book on the subject: Retained Heat Cooking … the Wave of the Future Again by Leslie Romano
Source: World Network Solar Cookers