Nick Armstrong says he's logged hundreds of hours over the past year to build himself a backyard sauna that's entirely handcrafted using cordwood masonry.  The idea for the cordwood sauna came to Armstrong after reading an article about a family fundraising effort aimed at restoring a historic cordwood barn in Sault Ste. Marie, Canada. "That got me interested in that type of building technique, and ever since then I started researching the building style. I was inspired," he said.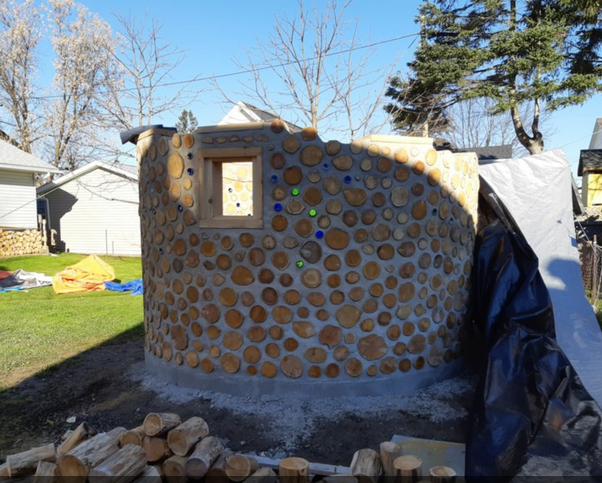 Armstrong sourced sand, hydrated lime and Portland cement from local suppliers in the Sault, and hauled some cedar trees from St. Joseph Island. He also needed to get his hands on some sawdust in order to complete his old-school mortar recipe.  "You need a very specific type of sawdust consistency and it has to be a softwood sawdust.
He went to beer and liquor stores to get the colored glass for the walls, which entailed cutting bottles in half and fusing them together. "I didn't shop for what I wanted to consume, I shopped by the color of the bottle," said Armstrong. "You'll see a lot of blue bottles, and that's actually a French beer – I never would've tried that beer if it was in a blue bottle," he said.
"The roof itself is actually going to be an earth roof, so it'll be a live roof with grass and flowers and whatnot planted on top," Armstrong said.
The total cost of his cordwood sauna wouldn't be as much as a comparable sauna kit, but the labor was intensive, with Armstrong spending many nights under a tarp in his backyard with a headlamp strapped to him. "I have 500 to 600 hours just laying the walls," said Armstrong. "That doesn't include all the other work that's been put into preparing all the materials – cutting, peeling the wood, drying the wood, stacking the wood, moving the wood, sourcing all the other materials.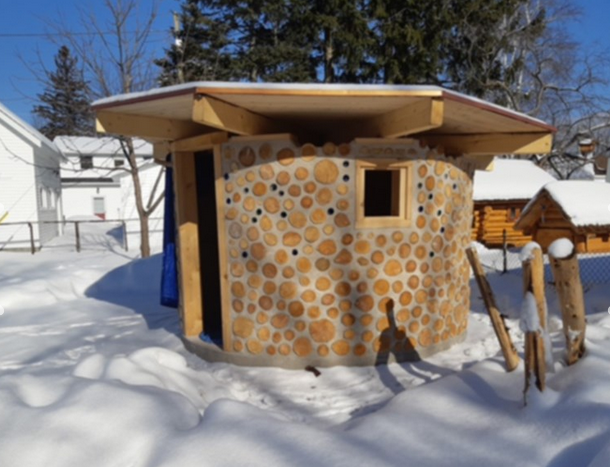 Armstrong's cordwood sauna has been entered into DIY Hero, an international competition with a grand prize of $25,000 and the opportunity to be featured in a two-page advertorial in Make Magazine.  Armstrong says if he does win he plans to donate $10,000 to the Red Cross in support of the Ukraine efforts.
"I'd love to get the word out there. It's been a lot of fun. It's been a long, challenging, rewarding project, and I think it's cool to show people what's possible if you just put some elbow grease and time into something," said Armstrong.
You can read the original article at www.sootoday.com