In 2005 there was much publicity and delight regarding a lovely earthbag clinic built in a small town in the Philippines. This was a project of Illac Diaz and several organizations there. You can see the finished building below.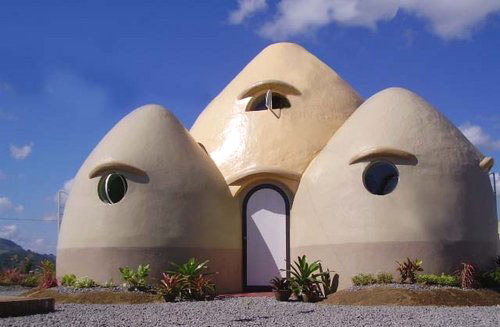 Since then it has been privately reported that the building has fallen into disrepair. Some photos accompanying the report clearly show that this is the case: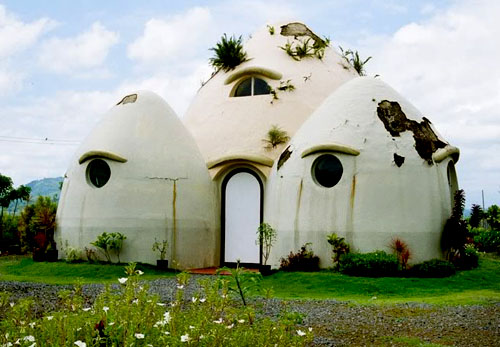 So what happened? Here is what I think. You can see in the photo below how the workmen are applying mud to the cement-stabilized earthbag structure.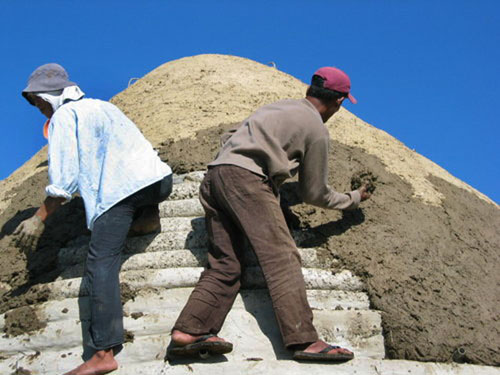 Obviously the final layer of plaster did not adhere to the mud fill that was applied. Plants are now growing naturally in this earthen medium; the seeds or roots may have been present at the time it was applied.
What this indicates to me is that the intermediate mud plaster was a mistake, and it should have been replaced by more stabilized material like what was placed in the earthbags. Then the final color coat of compatible plaster would likely have remained intact, and nothing would be growing up there.
It is a sad commentary that despite such a lovely structure having been built, there is not sufficient interest, or follow-through to remedy the situation and salvage the entire building.
To read about the entire project and see  more photos see www.earthbagbuilding.com