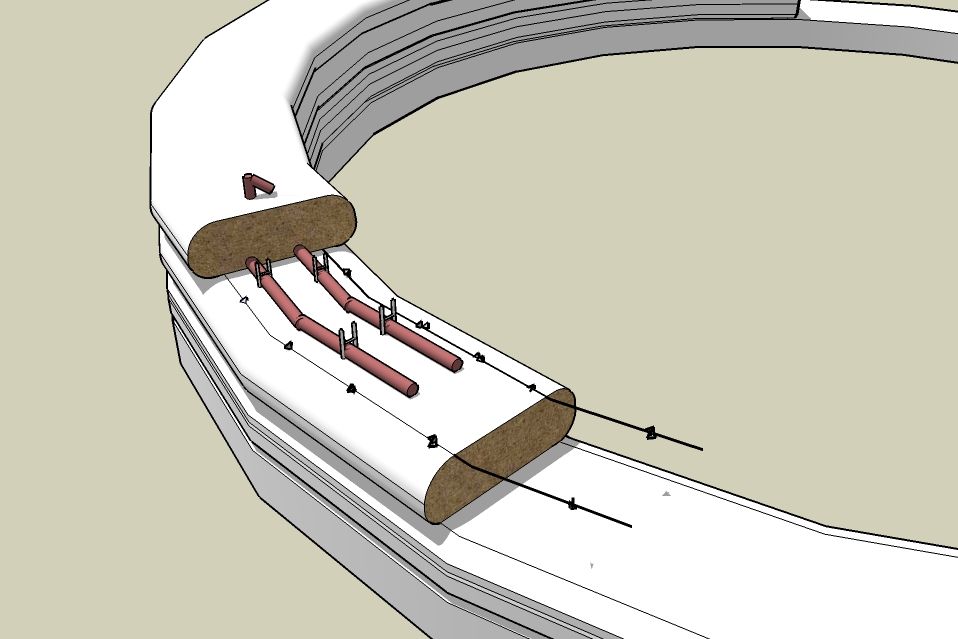 Forming bond beams for roundhouses and other curved structures is somewhat difficult. Here's a brief description of an alternative bond beam that requires little or no formwork. It's made with two layers of long poly tubes filled with stabilized soil (non-seismic zones) or concrete (seismic zones). Tubes could be filled 3″-4″ thick to save on cement. Put barbed wire and horizontal rebar (pinned in place) between the tubes as shown. Add vertical rebar to pin the bond beam to lower courses. Add lintels (or temporary supports if using concrete) over door and window openings. You could add strapping or wrap plaster mesh over the bond beam for added strength.
Note on fasteners for horizontal rebar: use H-shaped custom made fasteners with prongs that embed into bottom and top tubes.
Note on using concrete-filled tubes: you will need scaffolding/planks set up along the wall to pour the upper tube. Two sets of scaffolding could be leapfrogged.
Special thanks to Patti Stouter for the drawing.