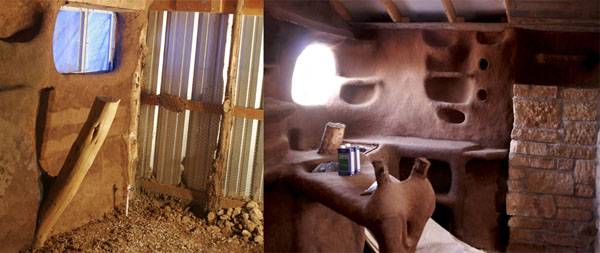 "I have a Granberg MKIII Alaskan saw mill on its way, as well as one of their smaller Mini mills. I have so much fallen trees from a friend's recent project that I'm going to use some of the wood I mill for flooring in the center of the house and hopefully make a little change on the side selling to a carpenter friend of mine. I'll let you know how it works out for me. I'll be milling mesquite, live oak and juniper.
I've attached a picture of the kitchen. It shows the kitchen before and where I've left it to move on to other things. I'll be doing some padobe work this spring to finish it up and clean up. The sink is in and just needs the faucet and hook it up to the water line in place. The stone wall on the right will be the back for the free standing wood burning stove. I haven't gotten to smoothing the padobe to the stone wall yet but I'll get to that in the spring. The kitchen is small but cozy and I think will serve my purposes.
The 4′ padobe bar that extends out, I'll be cutting off the juniper limbs that are sticking out of it. I'll also be covering where they are cut with padobe. The bar is supported by 2x4s that are connected to a juniper limb that extends to the floor. Then covered in padobe with some chicken wire. Padobe and chicken wire harden up like concrete.
I'm going to cut the big limb out from under the bar and instead, hang it from the clerestory beam with a steel cable and a eye hook going into the padobe covered juniper that remains. The bar will look suspended. It will match the suspended table we are going to put in the middle of the house. I'm going to double the dinner table as a chandelier. A couple of pulleys and a crank and it gets out of the way and with LED strips under it makes for cool lighting whether up in the air or down as a table. I have quite a bit of reclaimed steel cabling.
Part of the slowing the process is I've also been helping a friend build a fence so it's eaten into some time but I have 3 weeks off in the spring that I'm going to finish the flooring, ceiling, etc. I've been doing parts of each section of the house so that I know what I have planned will work or not. I don't want any surprises and it's saved me on a few ideas."
Previous blog posts:
Rex's House Update
Feedback on Rex's Pallet House
Update on Rex's Pallet House in Texas
Earth Lodge Pallet Walls
Use the search engine on the right to find related posts on other topics.