April Magill, a licensed architect in South Carolina, is willing to stamp construction plans for natural buildings as well as for conventional buildings. I believe April is the first architect to offer this service – to stamp plans for multiple types of natural buildings, not just one or two types. Imagine the changes that would happen if someone did this for each state. This one act of courage and love by April Magill could usher in profound changes very quickly. With this realization, I immediately wrote her and asked for an interview.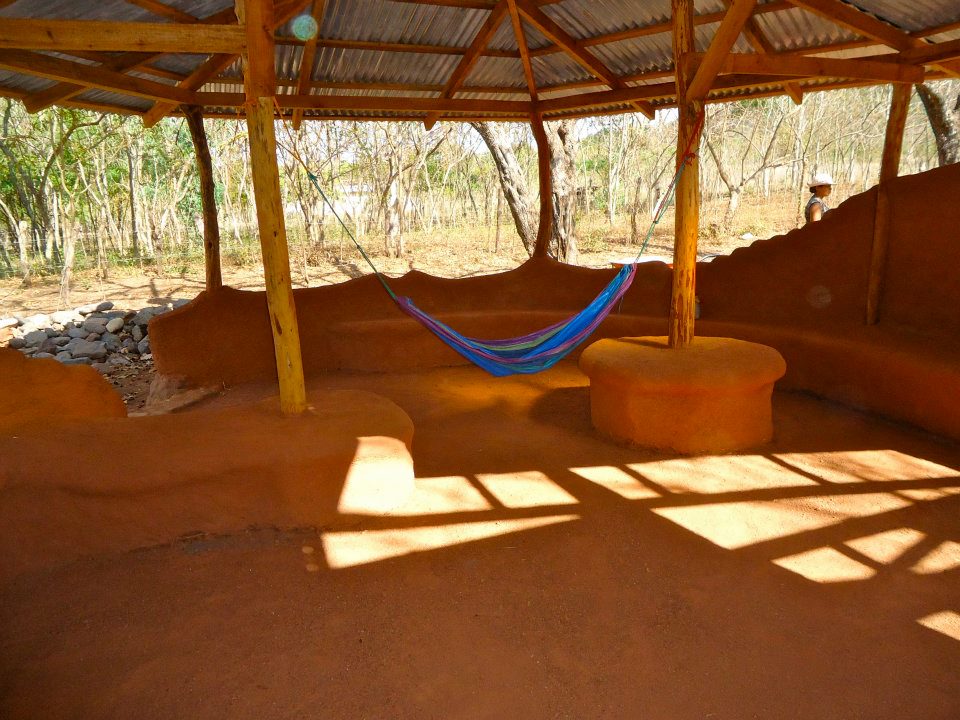 How has Natural Building impacted your life and how do you see it evolving in the near future?
Natural Building has impacted my life greatly. As an Architect who has practiced in the 'conventional' world for the past 8 years, I always felt there was something missing. Projects often seemed to be focused on profit, meeting deadlines, and pushing projects out the door as quickly as you can. I often would ask myself, 'where's the creativity???' When this whole 'Green Building' movement started a few years ago, this was exciting, but I quickly came to realize that we are just scratching the surface. Everyone became LEED certified and started figuring out ways to easily gain LEED points, like by adding a bike rack here and there, and things of this nature…. but no one was looking at it from a holistic standpoint. I learned about Natural Building and this widespread practice which is gaining momentum. One year ago, I finally made the decision to quit my corporate job and follow this path; my passion. I went to Asheville, NC and participated in a 3 week, hand's on Natural Building Workshop, and my path became so clear. I see Natural Building as a way for me to be engaged with nature and my natural surroundings, and integrate this into the built world. How can we build 'green' buildings if we are not looking at the materials which exist around us? How can we build green if we are not looking back at historical examples from a time past when people were connected with the Earth? How can we build green if we do not understand that we can create a symbiotic relationship between nature and the building? Natural Building means getting REALLY creative and figuring out building solutions using natural materials, to be applied in a 21st Century world. I now find that my work flows easily and organically, because I am passionate about it, and I can finally believe in the end-product.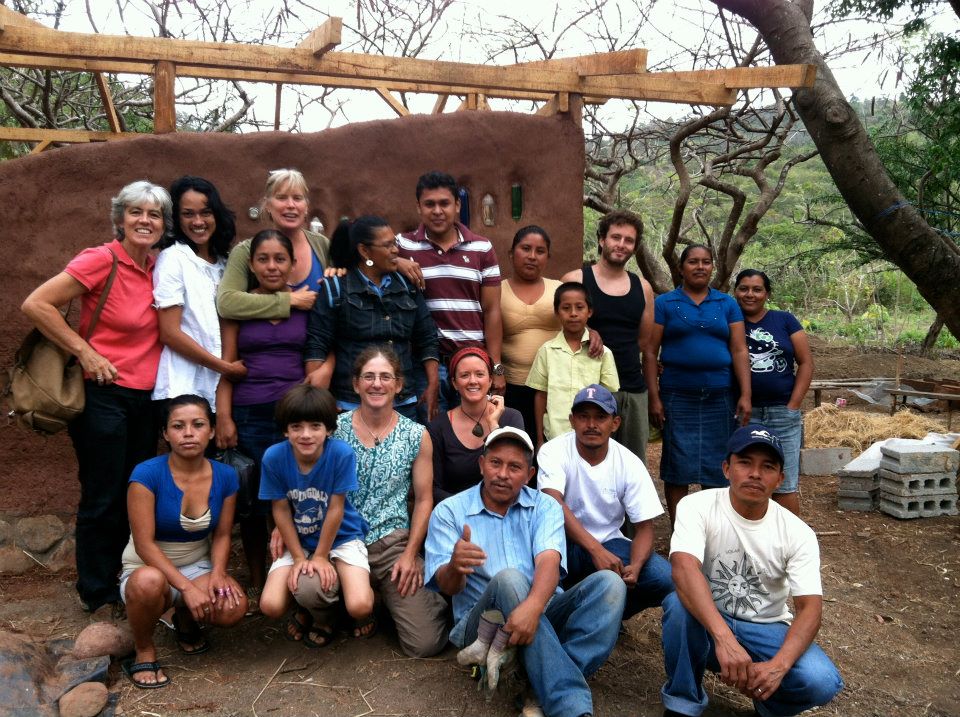 Tell us about your project in Nicaragua.
The Nicaragua project was led by Liz Johndrow of Earthen Endeavors.com. I recently spent 3 weeks in a small village called Sabana Grande in the rural, northern countryside of Nicaragua. The project was organized by a non-profit, Grupo Fenix. Here I lived with and worked with people of the village to build a 1 room classroom to be used for visiting groups as well as a community center for the village. The people of this village live a simple life…. there are no cars, dirt roads everywhere with chickens and cows crossing your path. There's a community well and a community corn mill. No plumbing and no refrigerators. Many people would refer to this style of living as 'primitive,' yet I see it as a beautiful example of people living off of the land with an extremely low-carbon footprint. I experienced a sense of 'community', which I think is lacking in so many of our lives living in the 'developed' world. We built with all natural materials, using the local clay-rich soil and locally harvested bamboo. We used several different Natural Building concepts, such as Cob, Adobe, Wattle-n-Daub, Earthbag Foundation, Earthen Plasters, and the list goes on. We worked with the women of the village and taught these concepts to them, so that they could gain a sense of confidence and continue to pass on this knowledge to others in their community. The result was this beautiful, natural structure which is pictured below. I found myself thinking, "what a progressive example this is!" Maybe we in the developed world can learn from what these less-developed nations are doing and stop looking at them as 'primitive' and 'undeveloped,' and instead realize that they hold the truth to a sustainable future.
Tell us about your community earthen oven project.
I see the Earthen Oven (or Cob Oven) as a great way to spread the awareness about Natural Building through a small-scale example. Through the process of building an Earthen Oven, you are able to understand the materials (clay, sand, straw) and how to build with them. You also understand concepts such as Insulation and Thermal Mass, and how we can use natural materials to achieve these properties. You also learn about Earthen Plasters and how to apply them. It's a small project that you can accomplish with a team of folks in a couple weekends, yet still allow them to understand the concepts and how you can apply this knowledge to much larger projects. Pioneering a region which is somewhat in the dark (compared to other regions in the US) about Natural Building, teaching Earthen Oven Workshops has been a great way to spread the awareness. I am able to disprove the misconceptions which many people in my region have: that we cannot use these Natural Building practices here, in a region that suffers from high humidity, extremely hot summers, hurricanes, and seismic. I say that we can! Just look around at cultures all over the world who have a similar climate and have been living in earthen structures forever! With proper detailing, these concepts can hold up forever. I have been astounded by the amount of interest and enthusiasm from record amounts of people in this area who are interested in Natural Building and are so happy to find someone in our region who is teaching it! So far, I have led an oven workshop in rural Cross, SC as well as in Awendaw, SC, and I have several proposals out there. This summer, I'll be leading a Natural Building workshop to build a small earthen structure at The Hostel in the Forest, in Brunswick, GA. Everyday, I learn of more and more people, organizations, restaurants, farmers, and chefs, who are interested in the Earthen Oven. My town of Charleston, SC is very much of a 'foodie' town, with a huge slow/local food movement. I see the Earthen Oven as a 'conduit' for continuing to spread awareness and 'hook' people into the Natural Building movement.
We've heard about your offer to stamp Natural Building construction plans. Please tell us more.
As I stated earlier in the interview, I've been seeking, for the length of my profession, for work that I am passionate about, that I can believe in, and I've found it. I believe that everyone has a right to affordable housing. I believe that everyone has a right to build their home from the natural materials on which they sit. I believe that history shows us the strength and the versatility of earthen structures. And I believe that a true 'green' building is one which has a marriage with the natural materials surrounding it. I feel that as a licensed Architect, I can help people reach these goals and make these concepts a reality. Having hand's on experience with Natural Building practices, and visiting earthen structures that have been around for hundreds, if not thousands of years, I am a huge advocate that these methods do work! I often hear people say, 'yes, well, it's can't possibly work in this humid environment of South Carolina.' I'm here to say, YES IT CAN!!! Just look around the world! Over 3 billion people around the world live in earthen structures, and you can bet there are many climates hotter and wetter than South Carolina! It's all about finding the most appropriate solution for each individual climate. Every project is custom. I continue to tell people that I am not making up these methods, they already exist I'm simply talking about what already is, and trying to disprove misconceptions in my state that we cannot build this way. In most states, including South Carolina, the local building department will require a licensed Architect's stamp (and possibly a Structural Engineering stamp) if you are wishing to do something unconventional, that lies outside of the current building codes. The Building Department is going to want to see examples of these buildings, possibly material testing results, and other Alternative Building codes adopted by other cities. As of now, I have only had conversations with Building Inspectors around here, but all in all, they are willing to work with me and seem interested in these concepts. To gain a Building Permit for Alternative Building, they must be convinced that these materials will hold up, and they want someone else to claim liability…which is where the stamp comes in. I have not had a project yet which has been taken through the whole process, but I definitely have some interested potential clients. I am ready and willing to take on this challenge and help South Carolina get on the 'progressive' map. I want South Carolina to have Alternative structures just like CA, and TX, NM, and Asheville, NC…and so many other states. While I understand people's reservations about going down the Permitting road, I feel that it is SO important, as to pave the way for more Natural Building in this state, as well as in others. I will gladly work with any client wishing to build an Alternative structure. As long as it's a design I feel comfortable with, I will certainly stamp the drawings.
Bio from my website:
April K. Magill
I grew up playing in the woods and building forts in rural south east Virginia. Attended VA Tech and pursued an education in Architecture. In my 4th year, I traveled abroad through the cities of Western Europe, where I was first introduced to the beautiful works of sculpture and architecture in Barcelona by famous architect Antoni Gaudi.
These sketches and photographs would stick with me through time and later influence my draw towards a more Organic Architecture. My passions lie not only within the world of design and architecture, but also in the world of building….creating….and working with my hands. I believe that in order to become a good Architect, I also must become a Builder as well. A need and a want to explore materials and to build with my hands has not only allowed me to participate in many traditional construction projects, but also led me down my newest path, Natural Building. I left Blacksburg, VA in 2004 with a BA in Architecture and headed to the coastal lowcountry lands of Charleston. My desire to be in and around old, well-kept architecture as well as a beautiful natural world pushed me here, where I have lived and worked for the past 8 years in the architectural industry. I worked for 3 of Downtown Charleston's Architecture firms, became a Licensed Architect in 2010, and served as Project Manager/Lead Architect on multiple projects before embarking on my own. Always itching to get out from behind the desk and into the fields, with a strong foundation of experience under me, I created AK Magill Architecture, LLC in 2011 and now, Root Down Designs (a subsidiary), in 2012.
I am:
• Finding Ways to Integrate the Natural Environment into the Built World
• Believing in Community-Built Projects
• Believing that Good, Functional, and Beautiful Architecture CAN BE Affordable
I live on James Island, Charleston, SC with my partner Matt McQueen of Handcrafted, LLC and our dog Boney (my office mate). Our house serves as my creative building 'playground.'