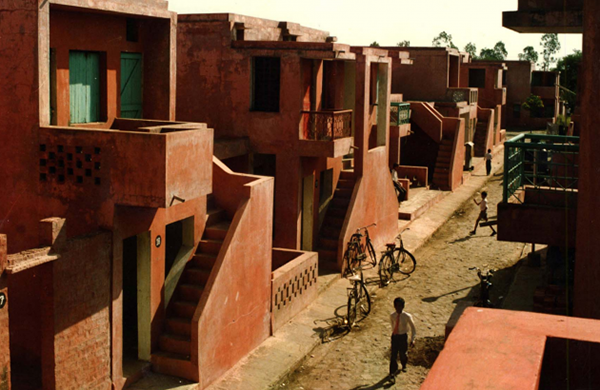 Traditionally, architects have contributed little to housing for the Third World urban poor. Those who opt to work for the poor need to rethink their roles; the numbers are overwhelming, the issues complex and the resources are very limited. One solution is to use land as a resource to produce housing for the urban poor, by allowing them access to it to build their homes. A study was conducted of such initiatives in a case study in India: The Aranya Housing Project, completed in 1988 and considered a model project.
Indore, India in the early 1980's was facing a shortage of Housing. It had been estimated that approximately 51,000 families were homeless or living in illegal settlements. The Indore Development Authority initiated an affordable housing project for 60,000 people that would tackle this issue and at the same time be affordable to the government and urban poor. Previous efforts by the government to provide low-cost urban housing in India were aimed at supplying ready-built units. However, it took too long to construct a complete house and it became expensive for the low income group and also ate up too many resources.
A rectilinear site of 86 hectares was designed to accommodate over 6,500 dwellings, largely for the Weaker Economic Section. This was an integrated approach for 'a sustainable society' where the mix of different economic levels of society could stay together.
Full article at Architecture in Development