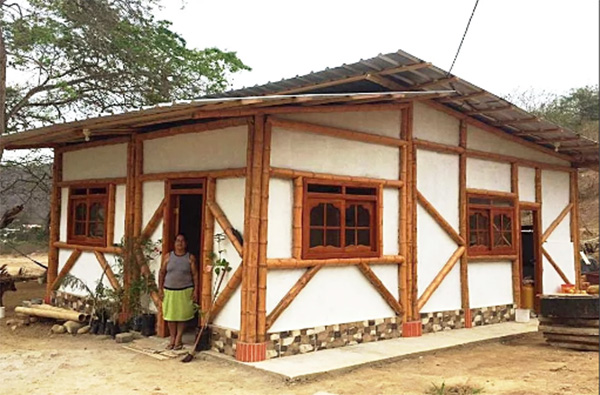 My name is Maya Sachasinh, I am a Bay Area native, college student at UC Berkeley and a life long social and environmental permaculturalist/activist. I wanted to reach out to ask for help spreading an incredible permaculture opportunity. For the past couple years I have helped start a bamboo construction company in coastal Ecuador after many years of facilitating restoration projects and research in the coastal tropical dry forests. Bamboo construction has been a great way for us to create incentive within the community to steward the forests, plus re stimulate the economy after disastrous earthquakes in 2016 and advocate for climate resiliency through green infrastructure development. Thus was founded, "Bahia Beach Construction".
Currently, we work to run supplemental green infrastructure courses for college students from over 10 universities, and after participating in some natural building workshops we received an incredible amount of demand to host a non-student trip on our new bamboo agroforestry farm. On this farm we are currently building a full on bamboo cultivation, curing, and carpentry training compound. What sets this trip apart is that folks from all over will have the opportunity to build structures with us start to finish while completing our bamboo cultivation and carpentry course, as well as have the option to design and create original designs on the farm with tools and materials provided! One of the many things we hope to create a platform for during this workshop is experimentation with knowledge of other natural and alternative builders from all walks of life.
I have ready to send an email template, promotional flyer, and 4-page brochure for this non-student program. All information about our company and registration for the workshop can be found here on out website. If there is any way you could help us by circulating this announcement through your networks: social media posts, newsletters, website, email lists etc. I would be incredibly appreciative! It is so important now more than every to be turning to the areas of the planet experiencing devastation from climate change and understanding the patterns of innovation and resilience that emerge from people to then be translated into active solutions and progress. Please let me know if this is something you could do or any other networks you recommend I reach out to, thank you for all the powerful work you do in the world!
Looking forward to hearing from you!
Best,
Maya Sachasinh Boone
Bahia Beach Construction A revolutionary coalition of Ecuadorian architects, carpenters, and community members rebuilding after disastrous 2016 earthquakes, reconstructing not only homes but narratives of local tradition and sustainability.