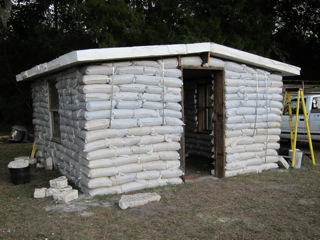 It's time to plaster!!! Isn't it great! All the bags and roof are up. Now it's just the finishing touch – plaster! Weather permitting, we will be plastering on Saturday December 4th. This is the easy part so come join us and have some fun!
To learn more about the Barrels of Hope for Haiti project, visit our website and blog at: www.barrelsofhope.org
You can also follow us on Facebook at "Barrels of Hope".
For monetary donations, visit the Chapter's Barrels of Hope page.
For food/supply donations or more information, email barrelsofhope@usgbcheartfl.org