I am pleased to report that the Barrel's Hope project, based in Florida, has finished their first earthbag house project in Haiti and are hard at work on the second. It is a very basic rectangular one room structure with a metal shed roof. We have been assisting them with their design choices so it is particularly gratifying to see this come to fruition.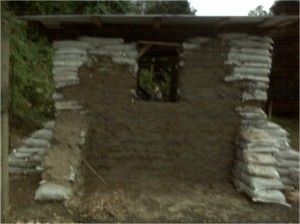 This organization was one of the first to contact us about using earthbags in Haiti after the quake.  The idea was to fill 55 gallon drums converted into rainbarrels with supplies to build earth bag homes. They wanted to send an entire container of these barrels as soon as they could. Fund raising to accomplish this was done locally in Florida.
They have assembled a PDF document chronicling how this first house was built, and you can see this either at their website or at www.earthbagstructures.com.